Activist Steyer: Reject Keystone XL Pipeline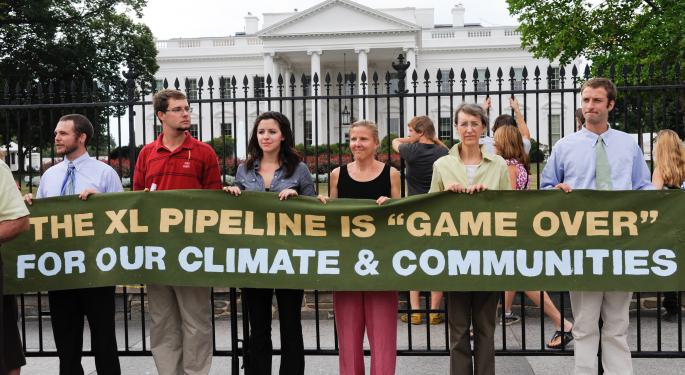 Can Keystone pass President Obama's climate test?
That was the topic of discussion among a collection of speakers and advocates mostly opposed to Keystone XL. Among those speaking was billionaire activist Tom Steyer, according to The Globe and Mail.
"Keystone XL fails his [President Obama's] climate test and certainly is not in the interests of the United States," Steyer told the 100 audience members.
The event was organized by the Center for American Progress Action Fun and NextGen Climate Action, a group funded by Steyer to "act politically to avert climate disaster and preserve American prosperity."
The Keystone Pipeline is currently operational, delivering up to 590,000 barrels of Canadian crude oil per day into the Mid-West refining markets. The pipelines are owned and maintained by Calgary-based TransCanada (NYSE: TRP).
The Keystone XL project is a proposed 1,179-mile (1,897 kilometer) oil delivery system to transport synthetic crude oil from the oil sands of Alberta, Canada to refineries in the Gulf Coast of Texas. The project has been delayed pending a seal of approval from the highest office in the United States.
Related: Legalized Gambling Could Be in Japan's Future
The proposal has been facing heavy criticism from environmentalists and some members of the U.S. congress. "Our national interest will be served only if this project doesn't significantly exacerbate the problem of carbon pollution," President Obama said early this year. "The net effects of the pipeline's impact on our climate will be absolutely critical to determining whether this project is allowed to go forward."
Steyer believes that a President Obama approval would have dire consequences. "A 'yes' on Keystone would mean more oil extracted, more carbon pollution," Steyer noted during his speech. "We face irreversible changes that will come at a catastrophic cost."
Steyer also noted that the pipeline would serve the interests of neither the United States and Canada. The pipeline "is a great deal for China and oil hungry nations where the oil will be exported [but] it will significantly contribute to the carbon pollution driving climate change," Stayer said.
TransCanada was unimpressed by the comments stemming from the billionaire activist investor turned political activist. "No one should be surprised that this political event has reached a pre-determined outcome," said Shawn Howard, a spokesperson for TransCanada.
The final seal of approval from the Obama administration has no timeline, despite Canadian Prime Minister Stephen Harper's claim that he "won't take 'no' for an answer" regardless of what President Obama decides.
Posted-In: Carbon pollution gulf coast Keystone Keystone XL oil sandsNews Global Economics Best of Benzinga
View Comments and Join the Discussion!