Market Wrap For December 2: Markets Sluggish on Cyber Monday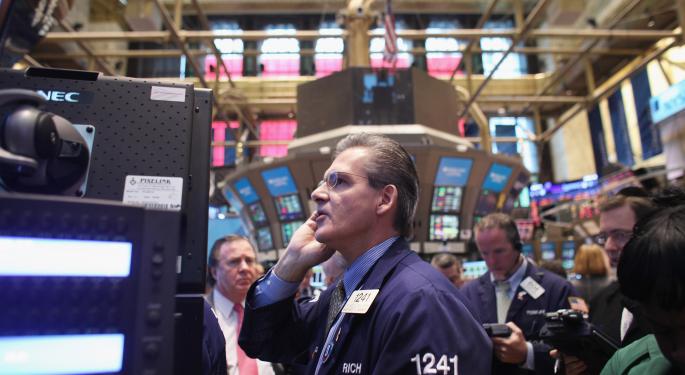 Despite a positive note by a leading analyst at Morgan Stanley (NYSE: MS), major markets suffered a post-turkey Thanksgiving hangover as major indices closed in the red.
Adam Parker, Morgan Stanley's lead strategist predicted the S&P will hit 2014… in 2014, an approximate 11.5 percent gain from current levels. With the jobs report being released on Friday, investors switched the "risk on" switch to a "cautious" setting following the Dow and S&P 500 each on an eight week winning streak.
The Dow lost 0.48 percent, closing at 16,008.58.
The S&P 500 lost 0.27 percent, closing at 1,800.87.
The Nasdaq lost 0.36 percent, closing at 4,045.26.
Gold lost 2.38 percent, trading at $1,220.70 an ounce.
Oil gained 1.31 percent, trading at $93.93 a barrel.
Silver lost 4.38 percent, trading at $19.16.
News of Note
Premarket, The Markit American PMI read of 54.7 came in above the 54.3 estimates and last month's readings of 51.8. The reading was the highest so far in 2013. New Orders gained three points to 63.6 while Production gained two points to 62.8.
US ISM Manufacturing for November came in at 57.3, above the estimates of 55.4, and above the prior month's reading of 56.4.
According to the National Retail Federation, consumers have spent $57.4 billion which is 2.7 percent less this Thanksgiving weekend when compared to the same holiday weekend in 2012. The average consumer spent $407.02 over the whole weekend, down 3.9 percent from last year despite a rise in total number of shoppers to 141 million from 139 million a year ago.
German manufacuturing PMI increased to a multi year high of 52.7 in November from 51.7 in October. The eurozone's most important economy was the only nation to report an acceleration of output growth last month.
Also jumping to fresh multi year highs is the U.K. manufacturing PMI hitting 58.4 in November, a big jump from 56.5 in October. The country is adding jobs at the fastest rate since May 2011.
As a whole, the Eurozone manufacturing PMI increased to 51.6 in November from 51.3 in October.
Canada's November PMI came in at 55.3, down slightly from October's 55.6 but still near multi year highs.
Equities-Specific News of Note
JPMorgan upgraded Monster Beverage (NASDAQ: MNST) to Overweight from Neutral while increasing the price target to $74 from $70. The analysts upgrade is based on the believe that the company's top line and bottom line momentum are accelerating. Separately, The Radiological Society of North America issued a warning that energy drinks increase heart contraction rates even among healthy young adults. Shares of the energy beverage company gained 0.56 percent, closing at $59.51.
PayPal noted that its mobile payment volumes increased over 100 percent year over year on Thanksgiving while mobile shopping activity rose 91 percent. The eBay (NASDAQ: EBAY) owned company was upgraded by SunTrust Robinson Humphrey this morning to Buy from Neutral with an increased price target of $61, up from the previous $59 target. Shares of eBay gained 1.64 percent, closing at $51.35, trading as high as $53.07 in the morning.
Bank of America began coverage of Twitter (NYSE: TWTR) with an Underperform rating and a $36 price target. The analysts weren't overly impressed with the company's valuation, despite a strong growth in revenue on the horizon. Goldman Sachs (NYSE: GS) issued a bullish stance with a price target of $46 based on "monetization through product enhancements" and other factors. Investors seemed to side with the bear case (at least for today) as shares declined 2.02 percent, closing at $40.73.
Related: Twitter's Quiet Period Ended Sunday
Shares of FedEx (NYSE: FDX) hit new 52 week highs today at $140.96. Shares were upgraded to Buy with a $162 price target from $140 as shares are expected to rise from the company's ongoing buyback program. Shares gained 1.05 percent, closing at $140.16
Facebook (NASDAQ: FB) was re-iterated with an Overweight rating with a $62 price target by analysts at J.P. Morgan. (NYSE: JPM) The analysts remain confident in the company's advertising drivers and a solid set of October data all pointing to further upside. Shares ended the day almost flat, gaining by 0.13 percent to close at $47.07.
Related: Facebook Testing New Portal to The Past
The Supreme Court declined to hear Amazon.com (NASDAQ: AMZN) on the issue of state taxes. Separately, last night on CBS's 60 minutes, Jeff Bezos revealed that the company is working on the use of drones to deliver packages to consumers within close proximity of a fulfillment center. Shares lost 1.32 percent, closing at $392.30 but not before hitting new all time highs of $399.00 shortly after the opening bell.
Related: Amazon's Jeff Bezos: Drone Delivery is Coming
3D Systems (NYSE: DDD) unveiled two new printers for its high-end ProJet line. The line targets more of a corporate client base and accounts for a larger portion of the company's printer sales. Shares gained 2.22 percent, closing at $76.83.
Dow Chemicals (NYSE: DOW) announced that the company plans to sell parts of commodity chemicals business. The company's segments represents up to $5 billion of total annual revenue. Shares gained 2.36 percent, closing at $39.98.
Related: Dow Chemical's Andrew Liveris Explains Exiting Commodity Chemicals
Shares of WebMD (NASDAQ: WBMD) hit new 52 week highs today after the company was upgraded to Neutral from Sell with a price target of $36 at Goldman Sachs based on revenue and gross margin improvements. Shares gained 3.75 percent, closing at $40.12.
Carl Icahn Tweeted that Talisman Energy's (NYSE: TLM) agreement to add two board members backed by Icahn is a positive for the company. "@Carl_C_Icahn The record shows that our involvement on boards has created meaningful value for shareholders. I'm optimistic this will continue with $TLM" Shares gained 3.22 percent, closing at $12.19.
Barrick Gold (NYSE: ABX) is set to announce former Goldman Sachs president John Thorton to replace Peter Munk as the chairman of the world's largest gold producer. Shares of the Canadian based firm declined 5.76 percent as selling pressure began right after the opening bell. Shares closed at $15.54
Related: Gold Falls to Lowest Levels in Over 4 Months, after Upbeat U.S. Manufacturing Report
Shares of Nike (NYSE: NKE) hit new 52 week highs of $80.14. The company plans to launch a "smartwatch" in 2014. Despite reaching new highs, shares sold off in the afternoon and closed the day lower by 0.06 percent at $79.09.
Winners of Note
Forest Labs (NYSE: FRX) announced a cost savings plan which will result in $500 million reduction in operating expenses by the end of 2016. The company's board also authorized up to $1 billion in buybacks. Shares gained 9.76 percent, closing at $56.32 after hitting new 52 week highs of $56.77 in the afternoon.
Barracuda Networks (NASDAQ: CUDA) received five Outperform ratings and a Buy rating following its recent IPO. Pacific Crest and Morgan Stanley each have street high price targets of $28 with JMP Securities calling for a $25 price target, which still translates to a large upside move in shares. Shares gained 11.11 percent, closing at $23.00.
Wix.com Ltd. (NASDAQ: WIX) hit new 52 week highs after JPMorgan and several other underwriters released bullish opinions on the recently IPO'd design your own website company. Included in the reports was Oppenheimer's note titled "So easy to use, my 7-year old created a Website" in which the analysts issued an Outperform rating and $25 price target. Shares gained 11.90 percent, closing at $22.94 after hitting new 52 week highs of $22.99 in the afternoon.
Decliners of Note
Shares of PetroBras (NYSE: PBR) fell after the company announced on Friday it will raise the price it charges for diesel fuel by 8 percent and a 4 percent hike for gas. Analysts at Raymond James aren't buying the company's strategy and the company's pricing methodology lacks transparency. Credit Suisse cited a lack of management credibility resulting in a harsh downgrade from Outperform to Underperform with a lowered price target of $14 from $25. Shares lost 10.92 percent, closing at $14.20.
After surging more than 200 percent since Wednesday, shares of Zoom Technologies (NASDAQ: ZOOM) plunged today as some investors likely took their triple digit profits off the table. The company announced a reverse merger last week but details are still limited at this time. Shares lost 25.70 percent, closing at $4.80.
Earnings of Note
Investors seemed to have lost their appetite for Krispy Kreme Doughnuts (NYSE: KKD). After the closing bell the company announced its third quarter results which included an EPS of $0.16, above the $0.15 consensus. Revenues of $114.2 million came in below the expectation of $117.67 million. Shares were trading lower by 11 percent at $21.85 prior to the company's conference call.
Quote of the Day
"The only thing people are worried about is that no one is worried about anything… That isn't a real worry." – Morgan Stanley's Adam Parker 
View Comments and Join the Discussion!
Posted-In: 2014 3D printers 3D Systems Adam Parker Andrew Liveris Barracuda NetworksNews After-Hours Center Best of Benzinga