Tesla Hands Model S Keys Over to Car-Guy Lawmakers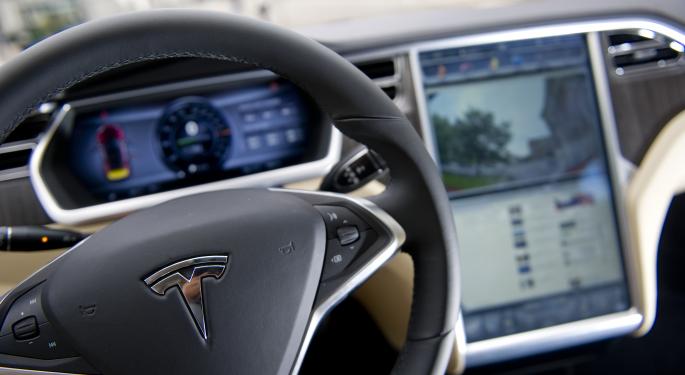 How Does Tesla (NASDAQ: TSLA) lobby government officials? It hands lawmakers keys to a Model S for a spin around the block.
Tesla is prohibited from opening showrooms in many states, including North Carolina, under pressure from car dealership owners who believe their business model is under pressure from Tesla's corporate owned stores and online business model.
According to The Detroit News, auto dealers are big spenders when it comes to lobbying. Dealers spent $86.8 million on state election races across the U.S. between 2003 and 2012. A further $53.7 million has been pumped in to federal campaigns, compared to less than half a million dollars that Tesla spent during the same time period.
Related: Tesla, Stay Away or Buy the Big Dip?
When North Carolina was set to ban online car sales in the state, Tesla invited North Carolina House Speaker Thomas Tillis, a Republican running for U.S. Senate, for a spin in a shiny Model S.
"When you accelerate it, it was the same sort of feeling I got when I test-drove a Mustang Boss back when I was probably 23 years old," Tillis said.
The test spin must have worked, as Tillis' chamber never voted on the online selling ban.
State Senator Thomas Apodaca was responsible for originally sponsoring the bill. The Senator was one of three lawmakers to receive an $8,000 gift from the North Carolina Automobile Dealers Association in 2012. The group has spent $152,000 in campaign contributions, mostly to Senators who control both chambers of the legislature.
Tesla faces stiff barriers to entry in the majority of states. "The only people who are opposed to Tesla are the dealers," said Massachusetts state Representative David Linsky. "Every legislator has auto dealers in their district, and they're out in force."
Tesla's might have won a small battle in North Carolina but the company still has many more wars to fight.
Posted-In: David Linsky detroit news Lobby groups Model S North Carlina Automobile Dealers AssociationNews Tech General Best of Benzinga
View Comments and Join the Discussion!