ComScore Reports Big Black Friday Numbers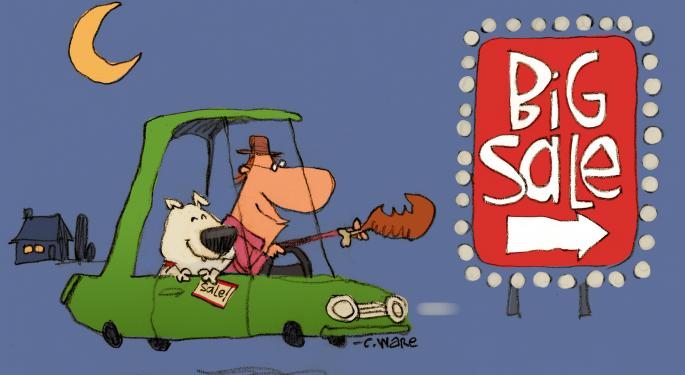 There was a lot of speculation on whether this year's Black Friday would be a shopping bonanza or an epic bust.
It appears that the former is true if comScore's (NASDAQ: SCOR) data is correct.
The data break down like this. American shoppers spent about $1.2 billion on Black Friday ($1.198 to be exact.) That compares to $1.04 million in 2012 representing a 15 percent year over year increase.
On Thanksgiving Day, the new kickoff to Black Friday, consumers spent $766 million compared to $633 million in 2012—a 21 percent increase. Finally, looking at all of November, the numbers were $20.5 billion versus $19.9 billion in 2012—a three percent increase.
Also notable was an increase in online shopping. According to comScore Chairman Gian Fulgoni, "Clearly many consumers prefer to avoid the crowds and lines typically associated with Black Friday by shopping from the comfort of their own homes, and we saw a record 66 million Americans do that this year." That 66 million figure represents a 16 percent year over year increase.
Amazon was the most visited online retail store this season. Next was eBay, Wal-Mart, Best Buy and Target.
Related: Wal-Mart Used Wrist Bands to Control Crowds on Black Friday
But don't discount the amount of brick and mortar shoppers. According to the National Retail Federation, foot traffic was up 27 percent on Thanksgiving Day to 45 million and up three percent year over year to 92 million on Black Friday.
And what were the most popular items? According to the comScore report, 28 percent of consumers shopped for apparel and accessories while 19 percent were in the market for computer hardware. Next was consumer electronics, consumer packaged goods, and five percent of the total was money spent to ship those items to others.
Based on this year's results, expect to see three trends next year. First, if you're in the camp that Thanksgiving should be one of those sacred holidays where America shuts down, you're going to be disappointed. Expect more stores open next year.
Second, expect more of a push by online retailers. More aggressive sales advertised earlier. Last, an even larger make or break mentality surrounding Black Friday. comScore's numbers prove that Black Friday is becoming even more of a pivotal period for retailers and because of that, expect to be blitzed with even more ads going into next year's Thanksgiving holiday.
Disclosure: At the time of this writing, Tim Parker had no position in the companies mentioned.
View Comments and Join the Discussion!
Posted-In: Amazon best buy Black Friday comScoreNews Retail Sales Econ #s Tech Best of Benzinga