Wal-Mart Used Wrist Bands to Control Crowds on Black Friday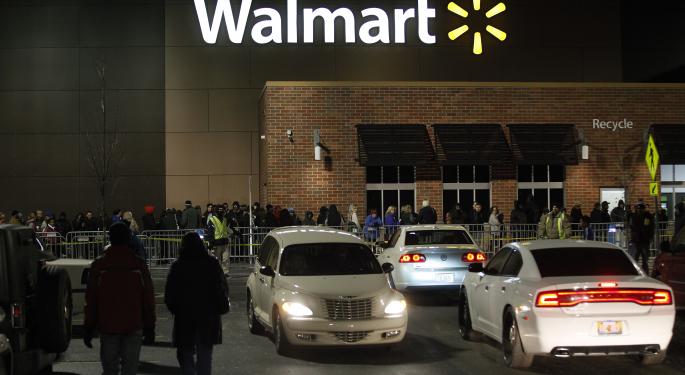 How do you control an excited, sometimes, angry, sometimes drunk, sometimes cold gang of thousands of shoppers trying to score the best deals on Black Friday (or Thursday evenings—whatever that's called)?
That was the challenge for retailers all over the country as stores like Target (NYSE: TGT) and Wal-Mart (NYSE: WMT) opened their doors for the big deals that brave shoppers show up to land.
Sales from Black Friday though Cyber Monday are expected to increase 2.2 percent year over year to $40.5 billion, according to IBISWorld. This has prompted retailers to take security precautions from Segways to wristbands to control crowds.
Since an accident in 2009 that resulted in the death of one worker, stores like Best Buy have gone as far as conducting security drills prior to Black Friday. On Black Friday in 2008, a Wal-Mart worker died after 2,000 shoppers trampled him to death as they rushed into the store. Wal-Mart was fined $7,000—the maximum allowed under the law. As a result OSHA now institutes annual guidelines to deal with crowds.
Related: Best Buy's Best 2013 Tech Deals
This year, Wal-Mart used wristbands for its 6:00 p.m. to 8:00 p.m. special events on Thanksgiving Day and last year began offering a one-hour guarantee that allowed shoppers who were already in the store to purchase a given item and take it home that day or any time before Christmas. The wristbands allow shoppers to return up to two hours after an event begins to claim their purchase.
Best Buy (NYSE: BBY) brought back tickets. The store's staff passed out tickets equal to the amount of doorbuster items it had in the store to those in line far in advance of doors opening. The brave who were in line early were given plenty of time to pick up their merchandise and could ask for as many tickets as they would like and could purchase a maximum of one item in each category.
And at Target, security personnel will ride Segways in the parking lot to increase their visibility.  Other stores ramped up the amount of security personnel they had including off-duty police officers to augment already-working store security staff.
Security personnel not only have to deal with crowds anxious for deals, the early opening of stores on Thursday have created a new problem—shoppers who are too drunk to shop. According to Reuters, some shoppers are showing up after being a bit too thankful for holiday spirits. Garth Gasse, director of retail operations and asset protection at the Retail Industry Leaders Association, said, "They've probably consumed a few and they probably shouldn't be out shopping,"
Disclosure: At the time of this writing, Tim Parker had no position in the companies mentioned.
View Comments and Join the Discussion!
Posted-In: best buy Black Friday Target Wal-MartNews Events Best of Benzinga