Apps That Will Save You Time and Money Through The Black Friday Weekend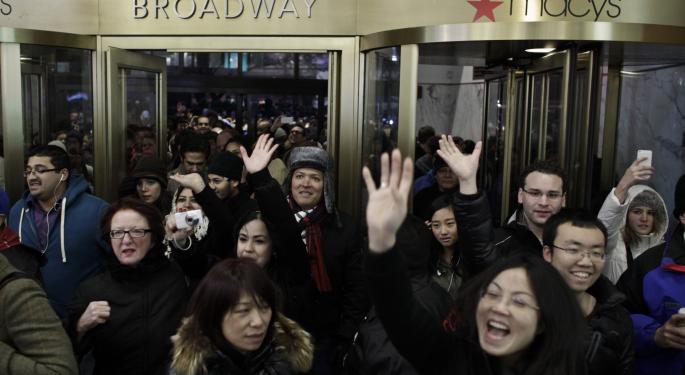 Increased smartphone usage is causing a rise in "showrooming" among consumers, a practice in which shoppers examine and test out products at the traditional retailers, but later purchase the item online at a lower price. 
Popular retailers are aiming to maintain their sales by matching the online prices head-on and offering quicker and easier shopping experience through use of their own mobile apps.
Related: Brick-and-Mortar Stores Strike Back Against Online Retailers
Significant numbers of retailers, including Best Buy (NYSE: BBY), Target (NYSE: TGT) and Staples (NASDAQ: SPLS) have promised to match the lowest price that could be found online from Amazon (NASDAQ: AMZN) and most authorized e-commerce sites.
Amazon app has barcode scanning and image recognizing search to speed up the search process in addition to having daily deals and constantly updated "Lightning Deals" to snag more traffic.
The image recognizing search function is expected to be used against Best Buy's recently introduced specialized barcode, which is designed to make the barcode scanning price comparison apps useless in the store.
Store-specific apps also have been updated to make the shopping experience less time consuming and stressful.
Most of the apps, including those of Target, Best Buy and Wal-Mart (NYSE: WMT) have item locator for easy navigation in stores in addition to offering extra deals and coupons. The Walmart app's recent update even allows the user to scan items into their phone while shopping to check out instantly at the register.
Related: Wal-Mart App Expected to Deliver Black Friday Last-Minute Sales Data to Consumers
Social media apps such as Facebook (NASDAQ: FB) and Twitter (NYSE: TWTR) are also expected to be a huge resource for finding and sharing deals on this holiday weekend.
Some of the other popular apps includeRedLaser, an app owned by eBay (NASDAQ: EBAY) which scans barcodes to find prices on a wider range of e-commerce sites and retailers nearby. Since many retailers will match the prices of other brick-and-mortar as well as online, this app may save unnecessary trips for a busy shopper.
While the growth in usage of mobile devices has been seen as a gloomy sign for traditional retailers, mobile apps may present a new opportunity for both the brick-and-mortar businesses and the consumers.
View Comments and Join the Discussion!
Posted-In: Amazon best buy Black FridayNews Retail Sales Events Personal Finance General Best of Benzinga