Warren Buffett: U.S. Is Better With Detroit Than Without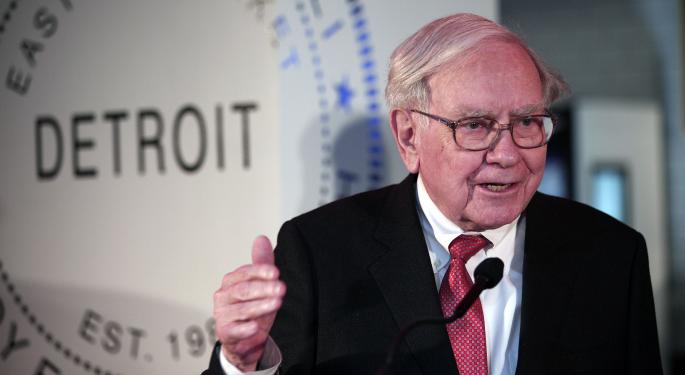 Berkshire Hathaway (NYSE: BRK-A) (NYSE: BRK-B) Chairman and CEO Warren Buffett believes that Detroit is an essential part of the country.
"The United States with a flourishing Detroit is going to be a lot better than the United States without one," Buffett told attendees at a press conference at Ford Field Tuesday morning.
"In a sense, it's like the auto industry was a few years ago," he said. "We had this incredible resource, which was not really being utilized, and millions of people dependent on its revitalization. And look what's happened."
Buffett said that he has a "real love" for Detroit, adding that its "potential is huge."
"You actually have a major industry now -- a huge industry -- that's come back, big, big time," said Buffett. "It's made a difference, not only to Detroit but to all of the United States. We needed it. The suppliers, everybody, the dealers in Omaha, you name it."
A New Initiative
Buffett came to Detroit to join Goldman Sachs (NYSE: GS) in announcing that its 10,000 Small Businesses initiative had come to the Motor City. The initiative was created to assist local businesses that are poised for growth.
Goldman Sachs teamed up with Babson College to teach entrepreneurs a number of key skills, including negotiation, marketing and employee management. The initiative will work with several local Community Development Financial Institutions to provide loans to local businesses.
Program participants will also receive one-on-one business advice, as well as the opportunity to learn from other business owners.
Buffett, who is co-chairman of the program, did not participate in the business selection process, but praised those who did.
Related: Buy Michigan Stocks, Not Detroit Bonds
"The people that are making the selections are doing a sensational job," said Buffett. "You find people that got fire in the belly, but they need to learn more about certain specific aspects of business."
Dr. Michael E. Porter, founder of ICIC (Initiative for a Competitive Inner City) and Bishop William Lawrence University Professor at Harvard Business School, assisted in the development of the program's 10-week courses for entrepreneurs.
"The follow-through has been great," Buffett said of the program. "We've seen 60 percent of the graduates add employees to their businesses. Ninety-nine percent of the people complete the course. It works."
Image Credit: Louis Bedigian © Benzinga
Detroit's Bankruptcy
Buffett joked that he didn't know about the exact procedure Detroit went through in filing for bankruptcy.
"I've never been through one myself," said Buffett. "I hope I don't go through one."
But "even a rich family can over promise or over spend," he added, noting that Detroit has the same problem.
During a Q&A session, Buffett spoke about his experience in talking to Quicken Loans Founder and Chairman Dan Gilbert, who he holds in very high regard.
"When I talked to Dan Gilbert…you can't stop somebody like that!" said Buffett.
Related: Blankfein, Buffett Bring '10,000 Small Businesses' Initiative to Detroit
Gilbert has been a big supporter of Detroit, repeatedly telling investors that there is light at the end of the tunnel.
That said, Buffett believes that Detroit may need a reorganization plan.
"Exactly what that should be, I'm not an expert on that," he said. "But I do know that the resources -- in terms of the people and businesses, the history, the culture -- are all here for a great city."
Disclosure: At the time of this writing, Louis Bedigian had no position in the equities mentioned in this report.
Louis Bedigian is the Senior Tech Analyst and Features Writer of Benzinga. You can reach him at louis(at)benzingapro(dot)com. Follow him @LouisBedigianBZ
View Comments and Join the Discussion!
Posted-In: 000 Small Businesses Initiative 10 Berkshire Hathaway Dan GilbertNews Success Stories Startups Small Business Best of Benzinga