Bill Ackman to Renew Herbalife Assault Friday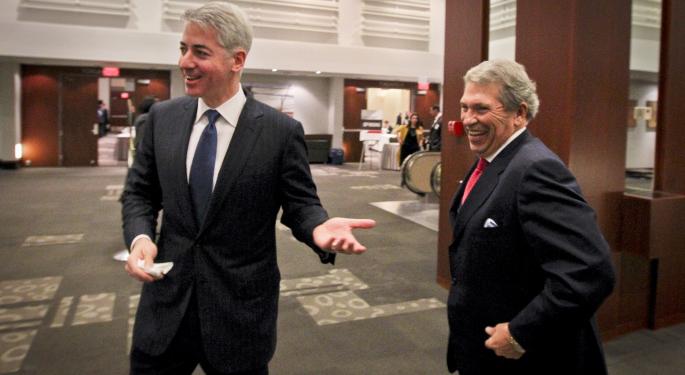 It's been one year since Bill Ackman took to a stage and revealed his $1 billion short position in Herbalife (NYSE: HLF).
The unexpected move came with a more-than 100 page PowerPoint presentation as well as a media blitz that created the now-famous CNBC interview where Bill Ackman and Carl Icahn squared off on live TV.
According to Reuters, Ackman is set to renew his assault on Herbalife Friday at the Robin Hood Conference—a first-ever conference sponsored by the hedge fund industry's anti-poverty charity.
According to unnamed sources in the report, Ackman is expected to renew his claim that Herbalife is a fraud. He'll present a new PowerPoint presentation expected to include hundreds of slides.
Last December, Ackman claimed that Herbalife was a pyramid scheme and said that when government regulators investigate the company, the stock will lose all of its value. He expects the stock to go to zero.
But regulators never formally launched an investigation. Even worse, other hedge fund managers took up long positions in Herbalife. Though none would say that it was to spite Ackman—somebody not well liked in the hedge fund community, people like Carl Icahn, George Soros, and others went long the stock and have seen sizable gains. Since Ackman's announcement, Herbalife is up more than 100 percent.
But that doesn't mean that Ackman is entirely wrong. Reuters reports that regulators are watching the multi-level marketing industry more closely.
Related: Herbalife, Brazilian Government Sign Agreement on Science without Borders Program
Last week, the state of Massachusetts shut down World Capital Markets, a company selling cloud services to the Brazilian community and operating as a multi-level market company.
Another, CKB, was shut down by the SEC in October for having little or no retail sales."
One of Ackman's few supporters, Jim Chanos of Kynikos Associates, also had a short position in Herbalife. Earlier this week, Chanos spoke at the Reuters Investment Outlook Summit saying that Herbalife's retail sales have been debated by a number of people in the investment community for quite some time.
When rumors of Ackman's renewed assault on Herbalife reached Wall Street rumor mills Thursday, the stock fell 2.59 percent—a relatively muted response.
Disclosure- At the time of this writing, Tim Parker had no position in Herbalife.
Posted-In: Bill Ackman Carl Icahn George Soros HerbalifeNews Short Sellers Events Best of Benzinga
View Comments and Join the Discussion!