Sony's $399 PlayStation 4 Costs $381 To Produce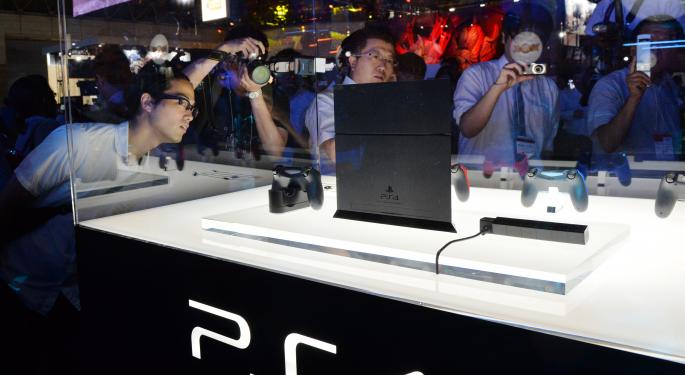 Sony (NYSE: SNE) and most manufacturers typically produce game consoles at a loss until, but PlayStation 4 may already be profitable.
According to AllThingsD, which got an early look at the PlayStation 4 teardown from IHS (NYSE: IHS), Sony spends $381 on every unit. The console retails for $399, leaving Sony with $18 in potential profit.
Comparatively, Sony spent $840 to produce the 60GB PlayStation 3 when it debuted in 2006. The console retailed for $599, costing Sony more than $200 in the process.
At the time, Sony spent $129 on a graphics chip from NVIDIA (NASDAQ: NVDA), $125 on the Blu-ray disc drive and $89 on a Cell processor from IBM (NYSE: IBM). All of these components were initially used in PlayStation 3.
With PlayStation 4, the Japanese tech giant spent $100 on a microprocessor from AMD (NYSE: AMD) and $88 for 16 individual memory chips. Since the AMD microprocessor is unusually large (IHS told AllThingsD that it is almost three times as big as the next biggest chip it has seen), Sony may actually spend more on manufacturing costs. Chips with a larger surface area are more prone to defects. This means that the company may need more chips than usual to ensure it has enough good ones to place inside each PlayStation 4.
Related: Will Xbox One's Non-Interactive Entertainment Features Trump PlayStation 4?
The console also contains a $37 hard drive from Seagate (NASDAQ: STX). Wireless chips were provided by Marvell Technology Group (NASDAQ: MRVL) and Skyworks (NASDAQ: SWKS), but their individual costs were not listed. When combined with an optical drive, however, the total cost for those components comes to $28.
Not surprisingly, the Dual-Shock 4 controller is one of the cheapest components, costing just $18. One is included with every PlayStation 4, but additional controllers sell for $59.99.
Qualcomm (NASDAQ: QCOM) provided the controller's Bluetooth chips, while Wolfson Microelectronics (OTC: WLFMF) built the audio chip.
Not Necessarily Profitable
Sony's total costs are below the MSRP, but that does not guarantee that PlayStation 4 will be profitable.
Unlike Apple (NASDAQ: AAPL) and Microsoft (NASDAQ: MSFT), Sony does not have a large retail presence of its own. GameStop (NYSE: GME) and Best Buy (NYSE: BBY) sell the majority of its products, but they don't do it for free. Sony may be forced to give its retail partners whatever profit remains on each console sold.
Related: Sony's PlayStation Coming To China
That's not the end of the world, however. Console margins have always been slim (or nonexistent). But console games can be very profitable.
Third-party publishers are required to pay licensing fees (roughly $7 per game) to console manufacturers. Thus, if Activision's (NASDAQ: ATVI) Call of Duty: Ghosts sold more than 250,000 copies last weekend -- as indicated by the game's pre-order numbers -- Sony will have made at least $1.75 million.
After accounting for distribution costs ($4), returns ($7), retailer margins ($15) and the licensing fee, Activision should receive around $27 for every game it sells.
Sony, on the other hand, will earn even more. The company does not have to pay a licensing fee to release games on its own console, which means that it should earn at least $34 for every copy of Killzone: Shadow Fall that consumers purchase.
Disclosure: At the time of this writing, Louis Bedigian had no position in the equities mentioned in this report.
Louis Bedigian is the Senior Tech Analyst and Features Writer of Benzinga. You can reach him at louis(at)benzingapro(dot)com. Follow him @LouisBedigianBZ
View Comments and Join the Discussion!
Posted-In: Activision AllThingsD Apple best buy Blu-rayNews Rumors Tech Best of Benzinga