Sony's Million-Unit Seller PS4 Has Some Flawed Consoles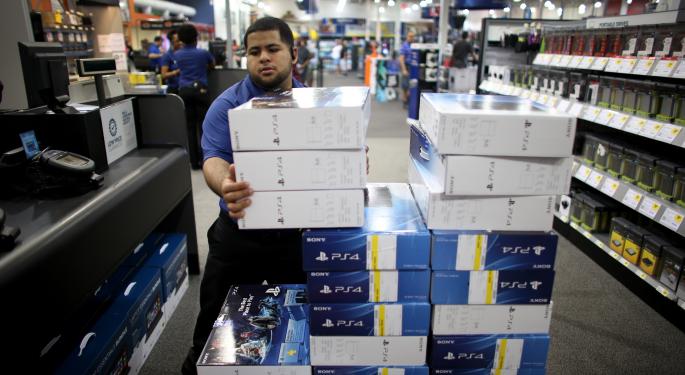 Sony's (NYSE: SNE) new video game console, PS4 sold 1 million units in 24 hours. Some of them didn't work.
Sony's official response to Business Insider was, "We are aware that some people have reported issues with their PlayStation 4 systems. We are closely monitoring for additional reports, but we think these are isolated incidents and represent a very small percentage of total units shipped to consumers to date."
The fact that a million consoles went out the door in the first 24 hours wasn't exactly earth-shaking news. Sony had previously said it pre-sold over a million PlayStation 4 units. The news simply makes it official.
The number is still impressive. The 24-hour sales figure puts the company on track to meet its goal of 3 million units sold by Dec. 31 and 5 million delivered by March 2014.
Related: Sony's PlayStation Coming To China
Even more remarkable is the fact that the PSR launched in North America. The European rollout occurs Nov. 29. The console won't launch in Japan until Feb. 2014. This represents a big change from the PS3 unveiling, which occurred in both Japan and the U.S. at about the same time. The original PlayStation rolled out in Japan a full nine months before being available in the U.S.
The big question revolves around the problems, dubbed PSR's Blue Light of Death. Gamespot said it was impossible, at this point, to know how big the issue was.
Sony said it expected a failure rate of 0.4 percent. Of the million consoles sold in the first hours that means approximately 4000 might be defective, or one in 250. That's not very many – unless you happen to own one of the non-working units.
The problem is magnified by the ease with which customers can complain loudly and publicly within minutes after finding out their console doesn't work. Gamespot noted studies that indicate people are far more likely to complain about problems than to post notices that "everything works as advertised."
Sony, for its part, posted a troubleshooting guide for PS4 owners who have experienced the "blinking blue light." The company said the problem could be caused by TV incompatibility, issues with the PSR's power supply, or hardware within the console itself.
The simplest fix involves the power cord. Sony advised users to turn off the PS4 by holding the power button for at least seven seconds (until the system beeps two times). Then they should disconnect the power cord and check it for signs of damage.
Meanwhile, as controversy about the extent of PS4's problems continued to swirl, Microsoft (NASDAQ: MSFT) prepared for the launch of Xbox One this coming Friday.
At the time of this writing, Jim Probasco had no position in any mentioned securities.
View Comments and Join the Discussion!
Posted-In: Blue Light of Death European JapanNews Retail Sales Events Tech Media Best of Benzinga