BlackBerry Could Lose 70 Percent of Corporate Clients This Year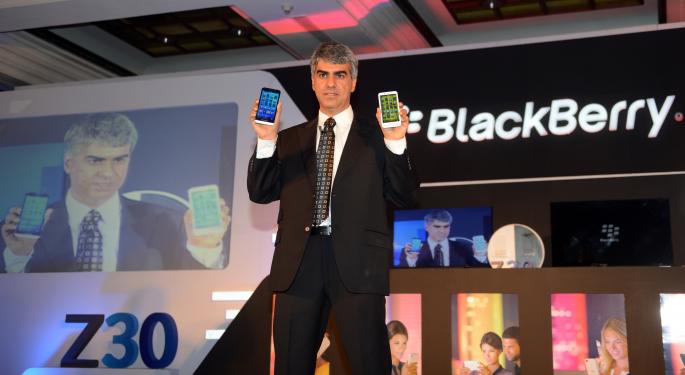 If you're thinking that the BlackBerry (NASDAQ: BBRY) hemorrhage has come to an end with interim CEO John Chen at the helm, that doesn't appear to be true.
The company's 2013 has been another to forget. The stock is down 45 percent year to date and 85 percent over the past five years but none of that is anything investors don't already know.
But there's new news. AllThingsD reported Friday that Pfizer (NYSE: PFE) is advising its employees to drop BlackBerry at the end of their contract.
Pfizer spokeswoman Joan Campion told AllThingsD, "We simply recommended to colleagues who have BlackBerrys that they use their BlackBerry devices and … migrate to a new device at the normal contract expiration."
Does one company matter? Pfizer is one of the largest pharmaceutical companies in the world. It has 90,000 employees and according to Campion, the number of employees using Blackberry phones is "huge." One company doesn't matter but it's one among many.
The U.S. Defense Department, owner of 470,000 Blackberry devices has said that it's moving ahead with plans to develop apps that grant other devices ATO or "authority to operate" status. This will include the latest Apple (NASDAQ: AAPL) iPhones and iPads, along with Samsung (OTC: SSNLF) devices. ATO allows these devices to access the Defense Department networks.
Related: Macquarie Downgraded BlackBerry, Lowering Estimates
Then there's BlackBerry's recent clash with analytics firm, Gartner. The two argued over Gartner's report that advised clients currently using BlackBerry products to be prepared for the worst.
"Gartner recommends that our [BlackBerry enterprise] clients take no more than six months to consider and implement alternatives to BlackBerry. We're emphasizing that all clients should immediately ensure they have backup mobile data management plans and are at least testing alternative devices to BlackBerry," Gartner analyst Bill Menezes told ComputerWorld.
A research report by Philip Clarke of Nemertes Research found that a vast amount of companies are looking to move away from BlackBerry. According to the report, 29.4 percent of companies had dropped BlackBerry and an additional 11.8 percent planned on making a change before the end of 2013.
Another 29.4 percent are evaluating EOL status meaning that nearly 71 percent of companies could drop BlackBerry in the near future. It's important to note that this report was published prior to Chen's appointment.
The report also found that as BlackBerry loses customers, Apple and Android devices won't see all of the benefit. 16.7 percent of companies plan to adopt Microsoft (NASDAQ: MSFT) Windows phones with another 20.8 percent evaluating their effectiveness. This could be because they integrate with existing enterprise infrastructure that relies heavily on Microsoft Office products.
Disclosure: At the time of the writing, Tim Parker was long Apple.
Posted-In: Apple Blackberry Computerworld Defense Department GartnerNews Rumors Tech Best of Benzinga
View Comments and Join the Discussion!