New Netflix App Receives Mixed Reviews Across The Web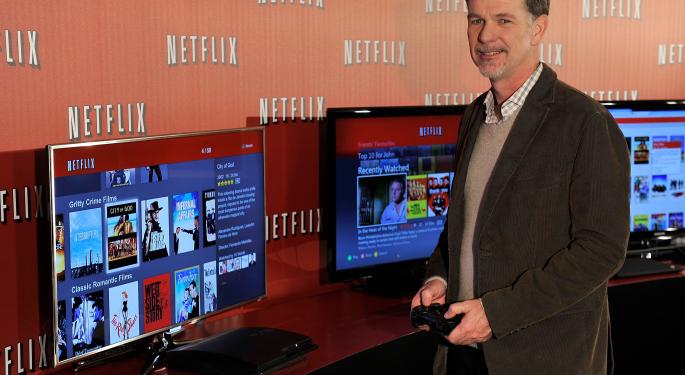 What do consumers think of the new Netflix (NASDAQ: NFLX) app for TVs and TV-connected devices? Thus far, the reaction seems to be fairly mixed.
Netflix developed the new app to bring a universal menu experience to all of its users. Now when they turn on an Xbox 360, for example, they will see a menu that is nearly identical to the one PlayStation 3 users receive. This experience will also spill over to Apple TV (NASDAQ: AAPL), Roku, Samsung (OTC: SSNLF) smart TVs and other devices.The new Netflix app UI for PS3 looks amazing!
— Nick (@nickchrstphrsn) November 17, 2013
The new #Netflix app on Xbox is crap. I might cancel my account, I hate it that much.

— Kieron Hargreaves (@FastEddy90) November 17, 2013
Combining bits and pieces of the older Netflix apps, the new Netflix experience places all videos on horizontal rows. Each row represents a different category. As the viewer scrolls up and down the rows, the top row fades away, vanishing quickly and seamlessly.
When scrolling between videos in a particular category, viewers will notice that all of the problems (such as the general stiffness that accompanied the last PS3 app) are gone. On some platforms, such as PlayStation 3, the new Netflix experience will appear automatically and will be available the moment users select the app. On Xbox 360 and other platforms, it will require a small update.
Related: Will Netflix Overtake HBO?
Netflix said that this upgrade took more than a year and a half to complete. "…This new experience evolved through a process of design exploration, iteration and testing that extended throughout all parts of the Netflix TV experience," Chris Jaffe, Vice President of Product Innovation, wrote on Netflix's blog. "We set out to deliver an update that would make it even easier to discover something great to watch and we think we succeeded."
Many love the app, as evidenced by the user comments on Twitter (NYSE: TWTR).
The new Netflix app on Xbox 360 is seriously really awesome. Way better than the craptacular PS3 version and the former 360 one.

— Buddy Acker (@BuddyAcker) November 17, 2013
This new Netflix PS3 app makes me actually want to WATCH movies in my queue instead of just continually adding titles. It's like MAGIC.

— Boner Vivant (@Doug_Tilley) November 15, 2013
Others prefer the old format.
The new xbox @netflix app is way less usable than the old one. No episode descriptions, the season viewer doesn't work... Hope they fix it!

— Evan Schiff (@schiffty) November 17, 2013
Users also posted some complaints on YouTube: "It is crap," alucardlugosi2 wrote about the new app. "It looks like it was made by a blind guy and you dropped features like the ability to skip back to the start of a show and the font sucks hard."
Related: Rumor: Apple's First TV Delayed Again, Lack Of Content Blamed
GigaOM readers didn't have much to say, but the one who did was not very happy. "At 70 years old it's very hard to read 2 point letters to search for movies on my 42" screen!" Netflix user Davi Baltierra wrote. "The pause doesn't work, you have no resume: so when you attempt to repeat what you missed you have to start the bloody show all over again. Please bring program back the features that were working great. If it ain't broke why fix it?! The user functions on this UI are all over the place."
Tom's Guide readers didn't have much to say either. But the one who did (a user by the name of "killabanks") said that the app seems to be "cluttered as heck." That said, investors might want to take these complaints with a grain of salt.
I love how many people react to new updates, such as iOS 7 or the new Netflix app update, with instant hate. #changeisgood #getwiththetimes

— Charlie Kelliher (@pilgrim_ckellih) November 16, 2013
Disclosure: At the time of this writing, Louis Bedigian had no position in the equities mentioned in this report. Louis Bedigian is the Senior Tech Analyst and Features Writer of Benzinga. You can reach him at louis(at)benzingapro(dot)com. Follow him @LouisBedigianBZ
Posted-In: Apple Chris Jaffe GigaOM Netflix PlayStation 3 RokuNews Tech Best of Benzinga
View Comments and Join the Discussion!