Market Wrap For November 11: Relative Quiet as Traders and Investors Observe Holiday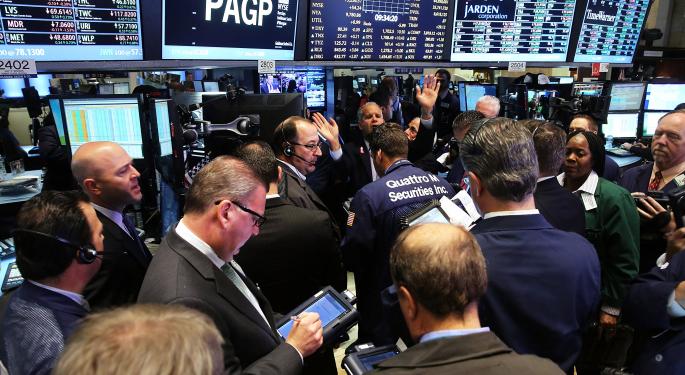 The Dow hit a record close in an otherwise quiet Veterans Day on Monday. There were no economic data releases by the government and few companies reporting earnings. The markets were anticipating a pick-up in Monday's rather slow activity with the lead-up to Janet Yellen's confirmation hearing on Thursday.
The Dow Jones gained 0.14 percent to close at 15,783. The S&P 500 gained 0.07 percent to close at 1,772. The Nasdaq edged higher by 0.04 percent to close at 3,919.
Gold lost $1.70 an ounce or 0.12 percent, trading at $1,283.00 an ounce. Silver gained 0.25 percent, trading at $21.37 an ounce. Light Crude oil gained 0.47 percent, trading at $95.04 a barrel.
News Of Note
The post-typhoon devastation in the Philippines is horrific, with the death toll expected to reach 10,000. The Philippines Stock Exchange Index, meanwhile, has declined by 1.4 percent. The total damage caused by the Super Typhoon is projected to cost $14 billion, of which only $2 billion will be insured.
Ray Dalio penned an essay highlighting the Fed's dilemma. Dalio and his team noted that asset purchases work when asset prices are low, but with valuations currently high, QE is far less effective.
Fitch Ratings downgraded the credit worthiness of Chicago's bond debt, mostly due to its public pension problems.
Alberta's premier will meet with Washington officials from the State Department, the EPA, the White House Council on Environment Quality and other key figures to promote TransCanada's (NYSE: TRP) Keystone XL oil pipeline. The White House's decision on the project appears to be close. Shares of TransCanada were little changed, closing the day down 0.75 percent at $44.75.
Analysts at Goldman Sachs (NYSE: GS) issued a bullish report on the Russell 2000, based on a high valuation. The corresponding ETF, iShares Russell 2000 Index (NYSE: IWM) closed the day up 0.14 percent at $109.38.
The Internet sector was downgraded by Morgan Stanley. The analysts believe the industry is no longer "attractive" and its performance will be "in-line." Google (NASDAQ: GOOG) was removed from the analysts' "Best Idea" list, with the belief that the company has fewer catalysts remaining.
Equities-Specific News of Note
Transocean (NYSE: RIG) and its third largest shareholder, Carl Icahn, reached an agreement early Monday The Swiss-based offshore drilling contractor has agreed to paying a $3 a share dividend and cutting the number of board seats to 11 from 14. "King Carl" maintains a 5.6 percent stake in the company. Shares closed the day up 3.59 percent closing at $55.37.
As if his agreement with Transocean wasn't enough, Icahn revealed to CNBC that Apple's (NASDAQ: AAPL) CEO Tim Cook is still studying Icahn's $150 billion buyback proposal. Shares of Apple were largely unaffected, closing the day down 0.29 percent at $519.05.
Analysts at JP Morgan(NYSE: JPM) issued a bearish report on the big mining stocks. The analyst recommended shorting BHP Billiton, (NYSE: BHP) Rio Tinto, (NYSE: RIO) and Glencore Xstrata. (OTC: GLCNF) Shares closed the day lower by 1.22 percent, 1.43 percent and 1.48 percent, respectively.
Amazon.com (NASDAQ: AMZN) is teaming up with the United State Postal Service to test out Sunday deliveries in key markets. Amazon.com gained 1.16 percent to close at $354.38.
Shares of Deckers Outdoor (NASDAQ: DECK) saw a pop Monday, following a research report by analysts at Jefferies with a $100 price target by year end. Shares closed the day up 5.13 percent at $71.79.
Shares of Facebook (NASDAQ: FB) closed lower by 2.8 percent at $46.20 after Andreessen Horowitz disclosed the sale of 2.28 million shares representing roughly 1/3 of its stake. Marc Andreesen was an early investor in the company and sits on its board of directors.
Last week Coca-Cola (NYSE: KO) announced a multi-billion dollar investment in China, making the country a top priority for the company. Monday morning, PepsiCo (NYSE: PEP) announced it will invest $5.5 billion in India by 2020, making that country a top priority. Shares of Pepsi closed the day lower by 0.47 percent at $85.45.
Analysts at RBC Capital Markets had an "outperform" rating on Macau's top three casino operators, Las Vegas Sands (NYSE: LVS), Wynn Resorts (NASDAQ: WYNN) and MGM Grand (NYSE: MGM). Las Vegas Sands (NYSE: LVS) also announced a $1.5 billion credit facility to help fund future Chinese projects. Shares closed up 0.86% at $70.40 while Wynn Resorts and MGM Grand gained 0.81 percent and 0.58 percent, respectively.
Shares of Tesla (NASDAQ: TSLA) closed the day at $144.70, higher by 4.89 percent, after the company published a letter from an owner whose Model S caught on fire. The letter concludes by saying "This experience does not in any way make me think that the Tesla Model S is an unsafe car. I would buy another one in a heartbeat."
Twitter (NYSE: TWTR) has been initiated with a Neutral rating by analysts at Sterne Agee. Despite the analyst note claiming that Twitter is already trading at a premium to its high-growth social media peers, shares reversed earlier gains and closed the day up 3 percent to close at $42.90
Dow component Exxon Mobil (NYSE: XOM) was upgraded to Buy from Hold with a $104 price target by Argus Research. Shares of Exxon closed the day up 0.25 percent to close at $92.96
Israeli-based Teva Pharmaceutical (NASDAQ: TEVA) reached a $718 million agreement with the Israeli Tax Authority "for the release of trapped profits, settling tax assessments for the years 2005-2007, and applying similar principles through 2011." Shares ended the day relatively unchanged, down 0.03 percent closing at $37.26.
Daniel Loeb's Third Point hedge fund held a 1.64 percent direct interest in Sony (NYSE: SNE) according to a regulatory filling released Monday. The Japanese company has repeatedly rejected the activist investor's demands to spin off its entertainment business. Shares of Sony closed the day down 0.78 percent at $16.61
Shares of Arna Pharmaceuticals (NASDAQ: ARNA) continued its momentum. Last week the company announced an expanded agreement for Belviq and today the company received a $12 price target from analysts at Jefferies. Shares closed higher by 10.65 percent.
Winners Of Note
Last week, shares of Gogo (NASDAQ: GOGO) flew as it's products were featured positively in a CNBC segment. On Monday shares of Gogo appreciated even further, after the company delivered an impressive third quarter earnings report and raised guidance for the fourth quarter. The company reported a loss of 22 cents per share, ahead of the 31 cent guidance. Revenue came in above consensus as well at $85.4 million versus an estimated $76.8 million. Shares closed the day up 28.8 percent to close at $24.15 -- after hitting a new 52 week high of $24.85.
Shire (NASDAQ: SHPG) has agreed to acquire ViroPharma (NASDAQ: VPHM) in a deal valued at $4.2 billion. Shire will pay $50 a share for ViroPharma, representing a roughly 27 percent premium based on Friday's closing price. Shares of ViroPharma were up $10.04, closing at a slight discount to the purchase price at $49.42.
GT Advanced (NASDAQ: GTAT) remains in the spotlight. Company shares gained 8.13 percent after a CNBC column hinted at a huge sapphire supply deal with Apple.
NQ Mobile (NYSE: NQ) is rumored to be in a partnership with a Chinese smartphone manufacturer. Shares surged 19.06 percent to close at $13.49. The company is set to report earnings Tuesday evening.
Chinese e-commerce firm Dangdang (NASDAQ: DANG) gained 10.84 percent as it received a boost from Singles Day in China. Shares closed at $9.00.
Decliners of Note
Shares of Zalicus Inc (NASDAQ: ZLCS) plummeted 72.28 percent to close at $1.30 after the company revealed pre-market the negative results from two phase 2 studies. The company announced it will discontinue its Z160 program which "did not meet its primary endpoint in either study."
Shares of Cirrus Logic Inc (NASDAQ: CRUS) dropped 13.53 percent to close at $19.24 after a Barclays report confirmed the iPad Air does not feature a Cirrus Logic audio amplifier.
Earnings Of Note
Pre market Silver Wheaton (NYSE: SLW) reported its third quarter EPS of $0.22 which was in line with consensus. Revenues of $166.4 million was up 3 percent year over year. Shares closed the day down 0.32 percent at $21.53. The Canadian based company is the largest silver streaming company in the world, but has seen its share prices underpform the iShares Silver Trust ETC (NYSE: SLV) in the recent year. Shares of Silver Wheaton are approximately 45 percent lower year over year compared to 32 percent in silver.
After the closing bell, Rackspace (NYSE: RAX) reported a miss of $0.04 with an EPS of $0.11. Third quarter revenue slightly beat out estimates by $1.5 million at $389 million. Shares were trading lower by as much as 7.85 percent in after-hours trading.
View Comments and Join the Discussion!
Posted-In: Alberta Carl Icahn Keystone XL markets Ray Dalio stocks Wall StreetNews Best of Benzinga