The Twitter Week in Review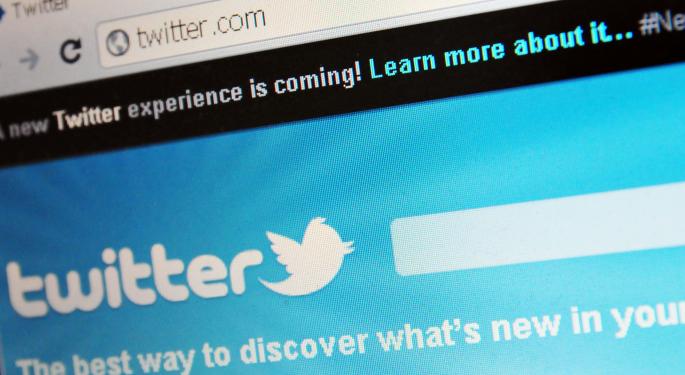 Finally, the biggest IPO to hit Wall Street this year took place. Twitter (NASDAQ: TWTR) IPOed Thursday at 10:51 a.m. in New York at an opening price of $45.25—73 percent higher than its offering price of $26. Here's how the biggest week in Twitter's history went down.
Monday:
Twitter raised its IPO range from $17-$20 per share to $23-$25 per share. The company said it expected to sell 70 million shares plus the underwriter's option. SunTrust analyst Robert Peck wrote that Twitter's IPO valuation was too conservative in a note to investors.
Related: Twitter Raises IPO Range to $23-25 per share
Tuesday:
The Twitter hype was in full force with the Wall Street heavy hitters largely coming out in support of the company despite the fact that it had lost more than $100 million already in 2013.
"Overall, the usage numbers look fantastic," said Hearsay Social CEO Clara Shih while discussing Twitter's IPO on CNBC Monday morning.
In other news, we reported that Twitter disclosed in an amended S-1 filing that IBM (NYSE: IBM) accused Twitter of patent infringement. Was this in the hopes of getting a piece of the IPO in exchange for settling the case? That was the speculation.
Related: IBM Accuses Twitter of Patent Infringement
Wednesday:
The day before the IPO, everybody was making predictions on how the stock would react on its first day of trading. Alastair McCaig appeared on CNBC's Worldwide Exchange Wednesday morning saying:
"Certainly, the IG grey market at the moment is [$24 to $26 billion], and that infers a share price of about $44, more than double what the IPO price is. So I think we're looking at a pretty healthy appetite from investors there."
Then, Twitter tweeted the announcement of its $26 per share offering price:
We just priced our IPO. pic.twitter.com/NWXaO4Myq0

— Twitter (@twitter) November 6, 2013
Related: Twitter's IPO Price Increase Worries Some on Wall Street
Thursday:
Twitter finally IPOs and opens considerably higher. This prompted Wall Street to ask if the shares were priced too low and whether jumping in at the $45 level was worth the risk. The Wall Street Journal said no. It noted that this was a pro investor's game and the smaller, retail investor should wait for the dust to settle.
But by the end of the day, it was clear that the IPO was a huge success. Underwriter Goldman Sachs (NYSE: GS) kept shares in the hands of long-only investors. This prevented the glut of share flipping that often accompanies big IPOs. Unlike the Facebook (NASDAQ: FB) IPO, there were no exchange embarrassments, and in a part with tradition, it wasn't the CEO and other big-wig insiders that were the face of the company that day. It was three of its users. Onlookers hailed this as a brilliant PR move.
Related: Did Twitter Make a Huge Mistake Pricing Shares at $26?
Friday:
Twitter gave up a little more than seven percent of its gains losing about $2 billion in market cap but some profit taking was expected. Investors will continue watching next week to see how the stock reacts as the IPO euphoria wears off.
Related: Eight Interesting Facts about the Twitter IPO
Disclosure: At the time of this writing, Tim Parker had no position in the companies mentioned.
Posted-In: Facebook Goldman Sachs twitterNews IPOs Tech Best of Benzinga
View Comments and Join the Discussion!