Microsoft to Take Over Skype Operations in China November 24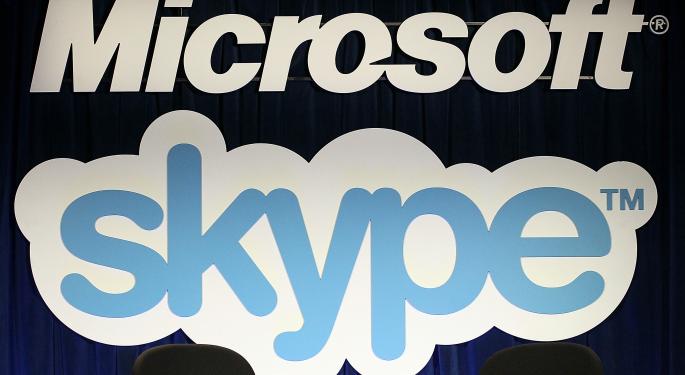 The Chinese language version of Techweb (complete with a not-so-subtle graphic depicting Skype's emergence as the new sheriff in town) noted Friday that Chinese mobile Internet company TOM Online will turn Skype operations in mainland China over to Microsoft (NASDAQ: MSFT) November 24.
The Next Web pointed out that the service has 100 million users in China, a number representing a full one-third of the 300 million people Microsoft bragged about connecting worldwide on Skype's 10th anniversary earlier this year.
Microsoft acquired Skype in 2011, but agreed to let TOM Online continue operations as a majority joint venture partner. The move is widely seen as win-win for both Microsoft and Skype users in China.
Microsoft gets 100 million potential new converts to its ecosystem of products and services. Chinese consumers get new access to a wide range of integrated products from Microsoft.
Related: Microsoft Advised to Spin Off Xbox by Co-founder, Paul Allen
There is a catch. TechInAsia pointed out that the Chinese version of Skype is tightly regulated by the Chinese government – as are most things in that country. When users log on to Skype in China they are re-directed to skype.tom.com which uses text-filtering software to monitor discussions of anything the Chinese government considers sensitive – such as Taiwan or Tienanmen. Through this arrangement, the government has the ability to search personal information of both senders and those with whom they communicate via Skype.
It is anticipated that Microsoft would continue to comply with Chinese government regulations regarding censorship and monitoring. The company already does this with its search product, Bing.
On the other hand, TechInAsia noted that the notion of complicity with government spying efforts is not exactly new to Microsoft, considering the company's alleged dealings with the NSA through the Prism surveillance operation.
What matters most to Microsoft is the growing popularity of messaging apps in China, along with the (mostly) unfettered access it will have to 100 million potential new customers.
After buying Skype in 2011, the company replaced Messenger with Skype worldwide – except for mainland China. As of this year, Skype now resides in Outlook.com, Office 365 Home Premium, and Surface 2/Pro 2, according to Liveside. Just not in China.
In addition, there is currently no Skype app on Windows Phone or in Windows Store in that country. As Liveside reported, however that might all change after Nov. 24.
At the time of this writing, Jim Probasco had no position in any mentioned securities.
Posted-In: Bing China Chinese government InternetNews Global Tech Media Best of Benzinga
View Comments and Join the Discussion!