Big Mac vs. Big King – Let the Burger Wars Begin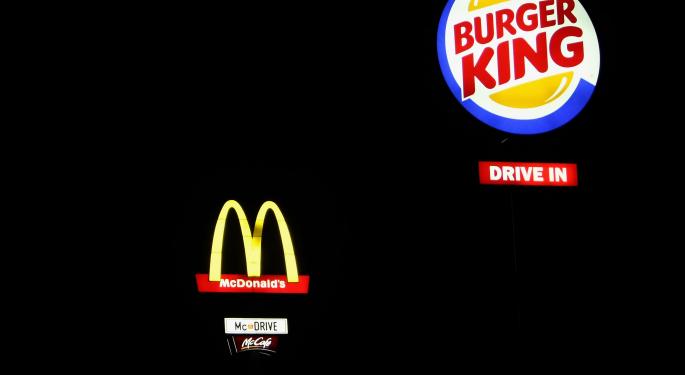 It has two all-beef patties, special sauce, lettuce, cheese, pickles, onions and a sesame seed bun.
Only this time it's not the McDonald's (NYSE: MCD) Big Mac.
It's Burger King's (NYSE: BKW) Big King.
According to CNBC's Jane Wells, who conducted an on-camera taste test, the two sandwiches are not the same. With the Big King, Wells said, "You can taste the flame broiling and the onions more."
Is McDonald's worried? Spokeswoman, Lisa McComb told The Associated Press in an email, "We're focused on our business and our customers."
Not that it matters, at least from a legal viewpoint. Consumerist noted, "There's no trademark on how you assemble a sandwich."
The Big King isn't new. It first came out in 1997, according to Consumerist, but without the middle bun. It was also a limited time menu item then. Now Burger King says the Big King is here to stay along with several other menu items that seem borrowed from its much larger rival. Items like fruit shakes, snack wraps, a rib sandwich, and even specialty coffee beverages according to The Associated Press.
It's all part of the ongoing battle between fast food and fast-casual chains for dining dollars.
Related: McDonald's Fights Slow Sales By Changing Dollar Menu Name
For companies like Burger King, adding the imitative Big King reflects what The Daily Beast calls fast food's "Moms and Bros" strategy. It's described as an effort to appeal to both higher-end consumers (Moms) as well as core customers (Bros) going for big sandwiches and tasty fries.
On the one hand, there are sandwiches like the Big King and Big Mac, on the other, snack wraps and Burger King's new "Satisfries" with 40 percent less fat and 30 percent fewer calories than the standard fare.
So far, the strategy hasn't been an overwhelming success. The Daily Beast pointed out that as the economy has improved, consumers have been spending their dining out dollars at fast-casual eateries, like Chipotle (NYSE: CMG) or Noodles & Co. (NASDAQ: NDLS) over McDonald's, Burger King and others in the fast-food space.
Because of this, McDonald's third quarter, U.S. same-store sales were up only 0.7 percent from a year ago. Burger King sales actually fell 0.3 percent and the company was forced to close 13 restaurants in the same period.
At the time of this writing, Jim Probasco had no position in any mentioned securities.
View Comments and Join the Discussion!
Posted-In: Big King Big Mac Burger King ChipotleRestaurants Success Stories Media General Best of Benzinga