The Google Nexus 5 Has Finally Arrived (GOOG)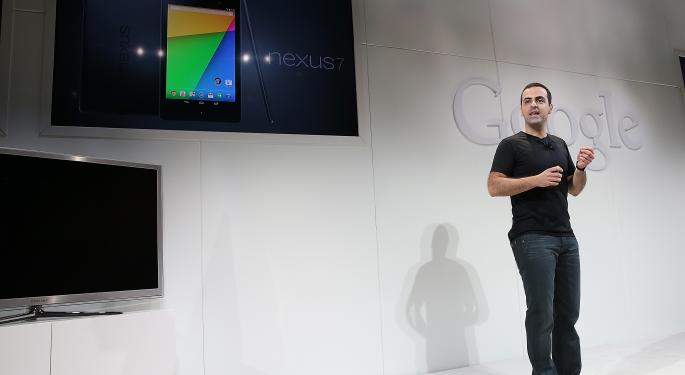 It seems almost fitting that the oft-rumored mysterious ghostly apparition of a smartphone known as Nexus 5 actually left the spirit world and became real on Halloween.
Underwritten by Google (NASDAQ: GOOG) and built by LG, the new device became available Thursday, unsubsidized, for $349 from the Google Play Store for AT&T (NYSE: T), T-Mobile (NYSE: TMUS), and Sprint (NYSE: S). So far Verizon (NYSE: VZ) said it would not carry the phone.
For those who prefer their cellphones in subsidized mode, Sprint said it would have the device Nov. 8 at $149 on a two-year contract. It will offer a non-subsidized version for $449.99, making the Play Store offer at a hundred bucks less even more attractive.
T-Mobile will also carry the phone in its stores, but has not yet said when that would be or how much the phone would cost.
In addition to featuring the new KitKat (4.4) version of Android, the new phone, as expected, will have a 2.2 GHz quad-core Snapdragon 800 processor with 2GB of RAM. The 1080p display measures 4.95-inches.
Related: Nexus 5 Rumors Explode Following Release of Google YouTube Video
Other features, according to Engadget, include wireless charging, LTE, Bluetooth 4.0, 802.11ac Wi-Fi and NFC. The front is encased in Gorilla Glass 3. Also of note, an 8-megapixel rear-facing camera with optical image stabilization, and some other high-tech features designed to provide highly detailed photos with almost no user interaction.
As CNET pointed out, the decision to offer the phone broadly through most carriers (Verizon being a major exception) was an important one. The days of exclusive carriers for flagship smartphones are over, a lesson Google learned with the Nexus One.
Almost lost in all the noise over the new phone are features such as "immersive mode" that come with the new KitKat OS. In a company blog post Thursday, Google Senior VP, Sundar Pichai said, "The first thing you'll notice about KitKat is we've made the experience much more engaging: the book you're reading, the game you're playing, or the movie you're watching—now all of these take center stage with the new immersive mode, which automatically hides everything except what you really want to see."
In addition, the new Phone app allows searching across all of a user's contacts, nearby landmarks and locations, even Google Apps accounts. The new Hangouts app allows all SMS and MMS messages to "hangout" in the same place, along with other types of communication such as conversations and video calls.
This feature is an obvious nod to the fact that users communicate with each other in a variety of ways – not just by phone or text message.
Perhaps one of the most significant features of KitKat is the slimmed down memory footprint that allows the OS to run on 512MB of RAM. This, as Pichai said, puts Android 4.4 within reach for the next billion smartphone users, with or without a Nexus 5.
At the time of this writing, Jim Probasco had no position in any mentioned securities.
View Comments and Join the Discussion!
Posted-In: 8-megapixel 802.11ac Wi-Fi Android 4.4 AT&TNews Events Tech Media Best of Benzinga