Investing In Arian Foster's Potential Fandex IPO New Territory for High-Profile Athletes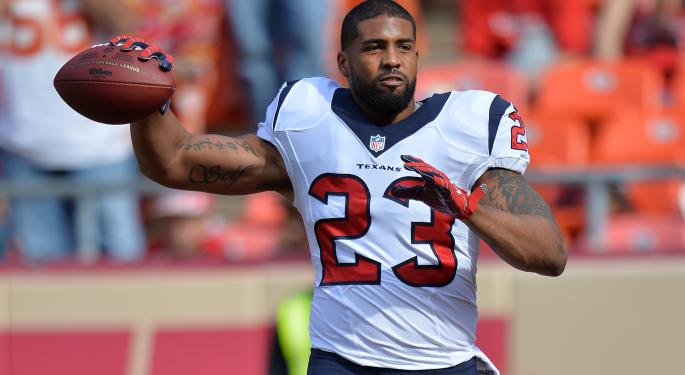 Twitter (NYSE: TWTR) has been the IPO grabbing headlines over the past couple months, but the NFL has found another way to stick its $9 billion head in the door.
Arian Foster, a Pro Bowl running back with the Houston Texans, announced October 17 that he is intending to file an IPO on himself.
On the surface, the move looks like another way to expand the athlete's brand. But can fans tangible gain anything from such an offer?
Fantex Brokerage Services is the company behind the offering, paying Foster $10 million for a 20 percent stake in just about all of his future earnings. Fantex is offering 1,055,000 shares at $10 per share. People will not necessarily be investing in Foster, rather, Fantax Series Arian Foster (FSAF), a type of common stock.
As Mo Zhu at Medium said, "The FSAF is a "tracking stock," meaning that it is designed to follow the performance of the underlying asset. The tracking stock accomplishes this feat through "attribution," which is the assigning of streams of revenue to various types of stock.
"This allows the Fantex Series Arian Foster stock to have a revenue profile different from that of the platform stock, even though both types of stock are common. In the case of this deal, 95% of Arian Foster's ABI (the 20% he pays to Fantex) is attributed to the FSAF stock, while the remainder is attributed to the platform stock."
The old Starting Line-Ups or Topps trading cards probably hold more tangible value for fans than this stock will.
ABI, acquired brand income, are those futures earnings that include his NFL contract, endorsements and media appearances. Foster is 27-years old. He has three years remaining on his five-year contract worth $43.5 million, only $20.7 million of which is guaranteed.
Foster has been one of the better, more surprising backs in the league since his breakout sophomore campaign in 2010. He has been pretty consistent since, but the high productivity for running backs in the NFL rarely ever goes passed 30 years of age, if it's lucky enough to get there.
John Elway played in the NFL from 1983-1998. He is currently the executive vice president of the Denver Broncos and is also a member of Fandex's board. As reported in the New York Times, Fandex President John Rodin is co-president of the hedge fund Glenview Capital Management and a Goldman Sachs (NYSE: GS) alumnus. Its chief technology officer is Joshua S. Levine, a former senior executive at E*Trade (NASDAQ: ETFC) and Deutsche Bank.
"Fantex represents a powerful new opportunity for professional athletes, and I wish it were available during my playing days," Elway said in a statement. While it could be a lucrative move for the athlete in present time, nothing is guaranteed.
Terrell Owens earned over $80 million dollars playing in the NFL - he went broke last year. Former NBA star Allen Iverson had his bank account locked until he turns 55 to help stifle his wild spending. Foster is one of the more self-aware and progressive players in the league (and one who doesn't seem to have many personal issues like his contemporaries), but that doesn't always equal a transition to future success or earnings.
As many have said, be wary of investing in this, or any, professional athlete. Like the market, a NFL player's career can crumble in the blink of an eye.
Posted-In: Arian Foster Fantex Houston Texans New York TimesNews Financing Offerings IPOs Best of Benzinga
View Comments and Join the Discussion!