Economic Recovery Could Help Warm Up Home Insulation Business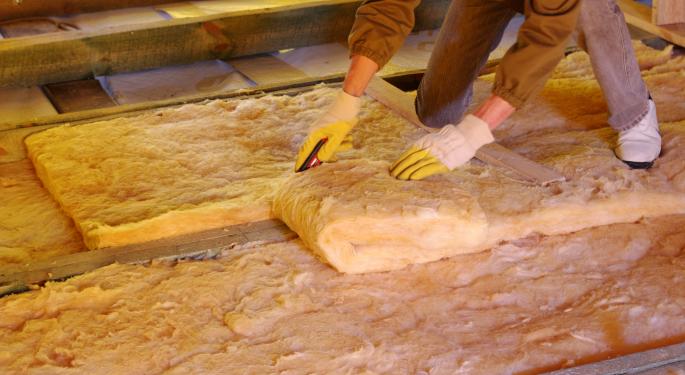 With the nation still in economic recovery and winter fast approaching, many families are looking at ways to make their budgets go further – including long-term investments in weatherizing their homes to make them more energy-efficient.
A new study by researchers at the Lawrence Berkeley National Laboratory says seting up a uniform standard for airtightness in homes could generate as much as $33 billion annually in nationwide energy savings.
"Currently people who weatherize can get their homes about 20 to 30 percent tighter. But they're not sealing all the cracks," Berkeley Lab scientist Jennifer Logue, the study's lead author, said in a press statement. "There's still quite a bit left on the table, and those extra leaks and cracks could potentially save a lot of energy."
The research firm IBISWorld, meanwhile, forecasts the roofing, siding and insulation wholesaling industries will benefit from the ongoing economic recovery, as new housing starts increase and consumers have more disposable income for home improvement projects – which should be good news for the big home improvement stores like Lowe's (NYSE: LOW) and Home Depot (NYSE: HD).
That data appears to be good news as well for a small but growing group of retrofitting companies – that specialize in making both homes and commercial buildings more energy efficient.
Jeffrey Bartos is CEO of Mark Group, a Philadelphia-based firm with a U.K parent company, that does energy efficiency analysis and improvements for homes and offices. He told Benzinga that while the U.S. has about 120 million residential properties, about 60 to 80 million of those properties are estimated to be either uninsulated or underinsulated.
"And if buildings, including homes, use over 40 percent of the energy consumed in the United States,"he notes, "a small increase in the efficiency of a property has an impact – and across a large building stock you've got dramatic improvement to the efficiency, which has all sorts of societal benefits."
Bartos says that, for fiscal 2013, his company expects to see a doubling of business compared to 2012. And, just as crucial, "you can't offshore what we do," he notes. "So you have to hire locally, to install locally, so there's an enormous job creation element to what we do."
Posted-In: energy efficiency home improvement homes Housing insulationSmall Business Trading Ideas Interview Best of Benzinga
View Comments and Join the Discussion!