Icahn Makes a Big Profit on Netflix, Offers Lesson in Selling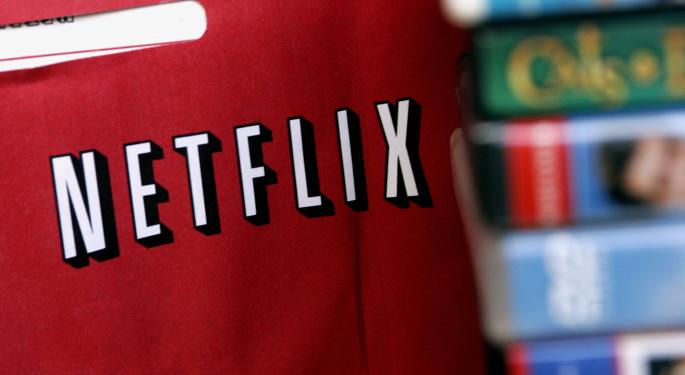 For the moment, let us just call the man Carl Icahn, speculator.
In the past 11 days, he has sold some 2.99 million shares of Netflix (NASDAQ: NFLX) for a total of $963.5 million. He paid roughly $58 each for the shares and is looking at a pre-tax profit of $790 million, or 450 percent.
For those who are counting, that's a profit of roughly $2.16 million a day.
Icahn the speculator announced Tuesday he had reduced his stake in Netflix by a bit more than half. And his filing with the Securities & Exchange Commission offers investors a great look at the art of selling – and why it pays to keep an eye the daily trading volume of any stock.
The stock fell 9.15 percent on Tuesday to $322.52. As bad as that sounds, the stock first hit 389.16, then fell more than 17 percent. On Wednesday, there was a short-lived rebound to $335.19, but overall selling in the market pulled the stock back to around $326.
There were good reasons Icahn might have wanted to pare the holdings.
First, the sales locked in a lot of profit for Icahn and his investors.
Second, for some time, Netflix as a stock has been screaming it's overbought. The stock was up as much as 320 percent for the year before the selling hit on Tuesday and cut its gain for the year to 248 percent. That's second best among stocks in the Standard & Poor's 500 Index behind Best Buy (NYSE: BBY) and second-best in the Nasdaq-100 Index (behind Tesla Motors (NASDAQ: TSLA)).
Since Icahn started to buy in last fall, the Netflix is up 375 percent. It's selling at 403 times trailing 12-month earnings and 90 times forward 12-month earnings. Those are very rich multiples. The S&P 500 is trading at about 19.5 times trailing earnings.
But the stock has been suggesting there are limits to how high it can climb. It has struggled when its relative strength index, a measure of momentum, has touched topped 70. That's a signal that some investors are interested in locking in profits.
No wonder CEO Reed Hastings warned about a euphoria about the stock in his shareholder letter. He knows what can happen when investors get euphoric about his stock. Netflix jumped 180 percent between June 30, 2010, and a peak of $304.79 in July 2011. Then, it fell nearly 83 percent until September 2012 after a bungled announcement of a pricing change.
If Netflix has been so hot, why sell? Because that's what Carl Icahn does. He typically takes a big position in a stock and pushes and prods, demanding management changes in the like. The goal is to get the price up so he can sell at a profit.
Sometimes, his speculations are fairly friendly. Netflix is a case in point. Tuesday he tweeted: "Sold block of NFLX today. Wish to thank Reed Hastings, Ted Sarandos, NFLX team, and last but not least Kevin Spacey." Spacey was the star of Netflix's series House of Cards.
But sometimes, he is not afraid to brawl.
Icahn began to cut his position on October 10 when five of the business entities he organized to buy into Netflix started to offload shares: 210,000 shares that day. On October 11, they sold 227,000 shares, then 151,000 shares on October 14 and 2.4 million shares on October 22.
The five entities bought Netflix shares on October 16 and October 17. I'd guess they'd bought to keep traders guessing.
If you were watching Netflix, two days of trading signaled that someone was selling: October 14, when volume hit 6.4 million shares and Monday when 7.1 million shares changed hands. The volume before then had typically been around 3.5 million shares.
And then came Tuesday when Icahn sold 2.4 million shares and total volume for the stock topped 25.6 million.
Icahn is not operating in a void. The market does look very rich. The S&P 500, which finished Tuesday at a record 1,755, is up 23 percent in 2013. The Nasdaq is up 30 percent, despite budget fights, war jitters in the Middle East and worries about the domestic economy. Its Tuesday close of 3,929.57 was the best since September 8, 2000.
Tesla shares were up as much as 471 percent on Sept. 30 but have fallen 11 percent since. Best Buy shares re up 264 percent this year but look like they, too, may be hitting a plateau.
Netflix has had a big year. It now has 30 million subscribers to its video streaming service, up 25 percent from a year ago. They see the 4th quarter subscribers up nearly a quarter from a year ago. And most of that growth will come in foreign markets.
House of Cards won nine Emmy award nominations, the first for any series aired online, including best series and best actor for Spacey. Its Orange is the New Black series also has been a strong performer.
But if there's an issue in Netflix's growth it's that revenue and profit aren't growing nearly as quickly as the stock price.
Holding the company back -- at least for now -- is due to the costs of establishing its presence in non-U.S. markets. International revenue may have more than doubled to $183 million in the third quarter, but the international segment also lost $74 million. The domestic business generated revenue of $701 million and profit of $166 million, up 26 percent. Profit was up nearly 93 percent to $166 million.
View Comments and Join the Discussion!
Posted-In: Carl IcahnNews Entrepreneurship Insider Trades Movers Best of Benzinga