Windows 8.1 Problems Surface (MSFT)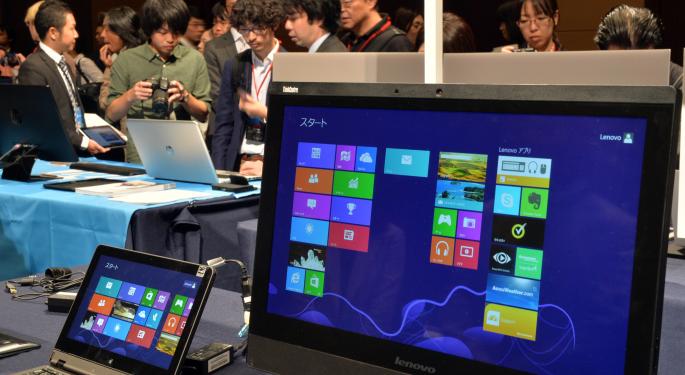 For starters, Microsoft (NASDAQ: MSFT) had to pull the Windows 8.1 RT update due to a "situation affecting a limited number of users." The "situation," aka, the Blue Screen of Death, was only part of the problem for Windows 8.1.
As for the PC version, issues have included booting to a blank screen, a reboot loop, and total update failure over Wi-Fi. In addition, reports came in that the latest version of Internet Explorer had some issues with common websites.
For those who installed Windows 8.1 RT and experienced problems, there is a fix, at least.
An interesting, somewhat odd, problem with the new Windows update has been the fact that it forces your display to enlarge to 125 percent if you are running at resolutions higher than 1366x768.
Additional complaints included the fact that users couldn't install 8.1 using a Windows 8 product key. A posted tip provides a workaround for that problem, as well as another that prevented multiple upgrades from a single download.
Related: Microsoft Is Paying Attention To App Revenue Stream
All operating system upgrades have problems. Unfortunately, Microsoft upgrades seem to suffer more than most. That said, the upgrade does provide some improvements, according to CBS News.
There is now a Start button. It does not function like the old Start button, but does include a context menu when you right click.
By right clicking the taskbar, choosing Properties, then Navigation, it's possible to bypass the start screen and boot directly to the desktop.
The upgrade allows you to snap more than two apps side-by-side and manipulate the windows easier, a popular improvement.
An "everywhere" search includes results from your hard drive, the Internet, and apps, a great all-purpose tool for users.
PC settings have been improved and now control many more Windows features. This component isn't perfect, but is much better than that provided by Windows 8.
A small, but visually important change is the fact that the desktop and start screen seem coordinated. Windows 8 users complained that the shift from the start screen to the desktop was disconcerting. No more.
Finally, SkyDrive is more integrated with the OS, making the Internet cloud more functional with Windows 8.1.
The consensus, according to The Verge, seems to be that Windows 8.1 offers many improvements but is far from a finished product. Problems range from minor irritants like the Start button "non-fix" to more serious issues including the pulling of Windows 81 RT. As a result, some enthusiasts are already looking forward to Windows 8.2.
At the time of this writing, Jim Probasco had no position in any mentioned securities.
View Comments and Join the Discussion!
Posted-In: Blue Screen of Death Internet cloud Internet Explorer Microsoft PCNews Events Media Best of Benzinga