Halloween Business is Big Business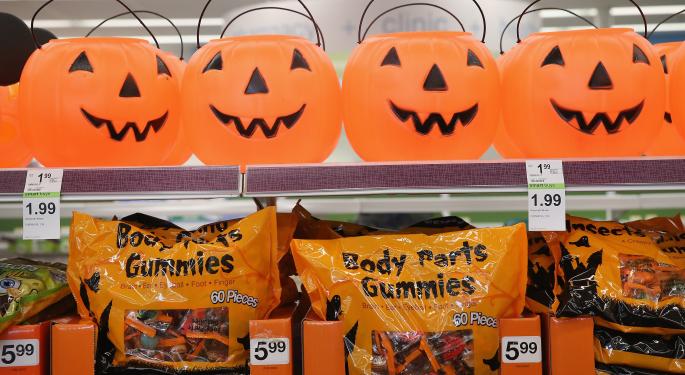 This year, by October 31, 158 million Americans will have spent close to $7 billion on scary stuff.
This will include scary decorations, scary costumes, and if you believe most health experts, scary candy. All this according to the National Retail Federation Halloween Spending Survey conducted by Prosper Insights & Analytics.
Interestingly, this year's anticipated average per person outlay of $75.03 is actually down from the $79.82 per person spent on Halloween last year. No matter. Overall, consumer spending on "all things Halloween" has increased a whopping 54.7 percent since 2005 making it a significant source of retail revenue, especially since it comes in a month (Oct.) that would otherwise be slow.
Breaking down Halloween spending, 43.6 percent of people said they plan to dress up. Those folks will spend $2.6 billion on costumes, almost equally split between those for adults and those for children. In addition, 13.8 percent of Halloween revelers will spend $330 million on costumes for their pets.
Then there's the candy. The tab on Trick or Treat confections will run more than $2 billion. Halloween greeting cards will cost an additional $360 million.
Finally, Americans will fork over almost $2 billion on decorations, including skeletons, spider webs, inflatable Frankenstein monsters, and various other ghoulish yard and interior paraphernalia.
In fact, spending on Halloween decorations ranks second only to spending on Christmas decorations, a fact not lost on merchants who devote entire sections of their stores to the holiday.
Speaking of merchants, many major corporations, rather than spending October ramping up for the more visible Christmas holiday season, now spend significant advertising dollars on goblins, witches, and zombies before turning their attention to Santa and his reindeer.
Sometimes the macabre nature of Halloween can trip up even the most careful corporate oversight, especially when a questionable item makes its way into the company online catalog. Such was the case this year for Sears (NASDAQ: SHLD), Wal-Mart (NYSE: WMT), and Amazon (NASDAQ: AMZN), three of the biggest players in Halloween merchandising.
Related: Amazon Embedding Employees with Procter & Gamble
In September horrified shoppers clicked on Halloween offerings and were shocked to see what the Consumerist said was listed as a, "Foam filled latex prop of a skinned dog with a large tire track squished through its mid torso. Chain attached for dragging purposes. You have seen bloody road kill, this is bloody road kill."
All three retailers quickly pulled the item, dubbed the "Dead Dog," but not before a number of customer complaints appeared on all three companies' Facebook pages.
Despite an occasional trip up like this, the potential revenue from Halloween-related spending is simply too much to ignore. Once relegated to novelty shops and specialty retailers, Halloween is now a mainstream holiday and a solid source of revenue.
At the time of this writing, Jim Probasco had no position in any mentioned securities.
Posted-In: Amazon Americans Christmas Dead Dog FacebookNews Events Media Best of Benzinga
View Comments and Join the Discussion!