Google Play App Revenue Grows Still Trails Apple App Store (AAPL, GOOG)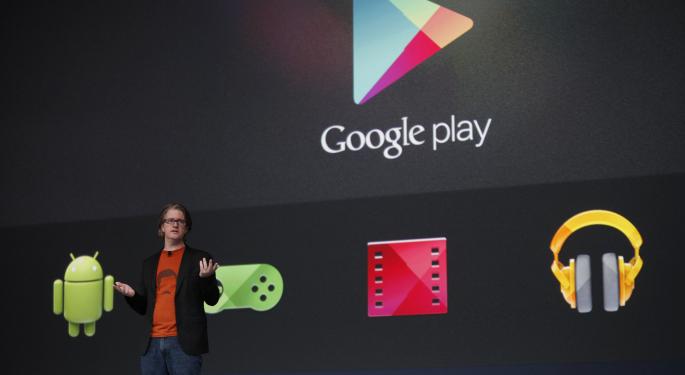 When it comes to app revenue, Google (NASDAQ: GOOG) Play continues to trail the Apple (NASDAQ: AAPL) App Store.
This, despite the fact Google Play increased its take a full 10 percent in the six-month period from April to September.
During that period, Apple dropped from 75 to 65 percent while Google (Android) jumped from 25 to 35 percent according to app analytics company Distimo.
In terms of real money, it's still not close. The Apple App Store receives almost twice the revenue of Google Play. In other words, Google Play improved, just not enough to overtake Apple.
Although market share for both stores didn't change from August to September 2013, revenue for the Apple App Store did grow slightly stronger during that period, mostly based on the release of iOS7 and the new iPhone models 5C and 5S.
Still, as IntoMobile noted, Google Play's revenue share growth over the past six months was impressive. Apple has a new OS and new iPhones. Android has the LG G2, HTC One, and the Samsung (OTC: SSNLF) Galaxy S4, all of which are enjoying brisk sales. Brisk sales lead to brisk downloads at the Google Play Store. That has resulted in significant revenue growth for the Android side of the equation.
Related: Google's Eric Schmidt Says Android Security Beats iOS
Predicting whether Google Play will catch up with or surpass Apple in app revenue is not easy. To add to the confusion consider the fact that the most popular downloaded free app from the Apple App Store in September was YouTube (from Google). Over at Google Play, the most popular free app was Facebook (NASDAQ: FB) according to Distimo.
The fact that most popular apps are available on both the iOS and Android platforms generally means that consumers are less likely to gravitate toward either platform in order to gain access to favorite applications.
The Horn reported on a study commissioned by Appcelerator that surveyed programmers and development executives at 804 companies and found that 80 percent of those surveyed were "very interested" in developing apps for iOS. Android came in second with 71 percent of respondents saying they were "very interested" in developing for that OS.
Although Apple was the winner, the difference may not be significant when considering the fact that 62 percent of those surveyed said they supported three or more platforms, while only 23 percent supported only one OS.
At the time of this writing, Jim Probasco had no position in any mentioned securities.
Posted-In: 5C 5S Android Appcelerator Apple Apple App StoreTech Media Best of Benzinga
View Comments and Join the Discussion!