Amazon Embedding Employees with Procter & Gamble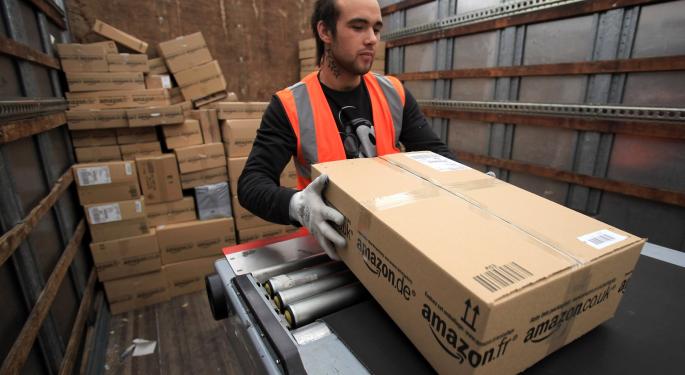 In an effort to tweak logistics and order fulfillment to an almost unprecedented level, Amazon (NASDAQ: AMZN) employees are packaging, labeling, and shipping Procter & Gamble (NYSE: PG) products from inside seven different P&G warehouses world-wide, according to The Wall Street Journal.
The practice actually began quietly about three years ago. Currently Amazon is in talks with or already inside warehouses of several corporations, including Seventh Generation Inc., Kimberly Clark (NYSE: KMB), and Georgia Pacific.
Traditionally, bulky household items like diapers, paper towels, and soap powder have not been considered good candidates for online sales due to the cost of shipping and warehousing. Clearly Amazon feels it can shave enough off that part of the bottom line in order to make a profit. That is, if profit is even part of Amazon's motives – at least short term.
Amazon's Subscribe & Save program automatically ships certain items, like vitamins, cereal, and other household staples to customers on a regular schedule. Just like the company's annual Prime membership program, Subscribe & Save is designed to create consistent repeat sales and customer loyalty.
Related: Amazon Gets President's Attention with its Massive Employment Campaign
In theory, the more dependent consumers become on Amazon, the more of their household budget will go to the online retailer. Ultimately, Amazon believes it can grow the repeat consumer goods part of the business to a significant level.
How valuable are repeat sales of consumer goods? Although only $2 billion of Amazon's $61 billion in sales in 2012 came from non-food consumer goods, Mark Mahaney, an Internet stocks analyst at RBC Capital Markets in San Francisco told The Wall Street Journal that the amount could grow another $10 billion at the rate Amazon is going.
Amazon isn't the only winner here. Embedding Amazon employees with suppliers through Amazon's Vendor Flex program reduces costs for companies like P&G as well. Transportation costs between the P&G warehouse and a distant Amazon facility suddenly go away.
In addition, of course, P&G has an effective partner in boosting online sales, something Procter & Gamble wants to increase. P&G, like other major manufacturers, has seen that segment growing as busy families opt for the convenience of home delivery over a trip to the store.
At the same time, companies like P&G have to be careful not to offend other retail partners, many of whom know about the Amazon "embed" system and don't like the advantage it gives that company.
To that end, Yannis Skoufalos, P&G's global product supply officer noted that the company works with warehouse clubs like Costco (NASDAQ: COST) and Wal-Mart (NYSE: WMT) owned Sam's Clubs to keep P&G products in stock while minimizing the need to store large quantities of bulky items.
At the time of this writing, Jim Probasco had no position in any mentioned securities.
Posted-In: Amazon Costco Georgia Pacific Kimberly ClarkNews Wall Street Journal Retail Sales Media Best of Benzinga
View Comments and Join the Discussion!