iPad Mini Delay Could Hurt Apple, Boost Kindle Fire HDX (AAPL, AMZN)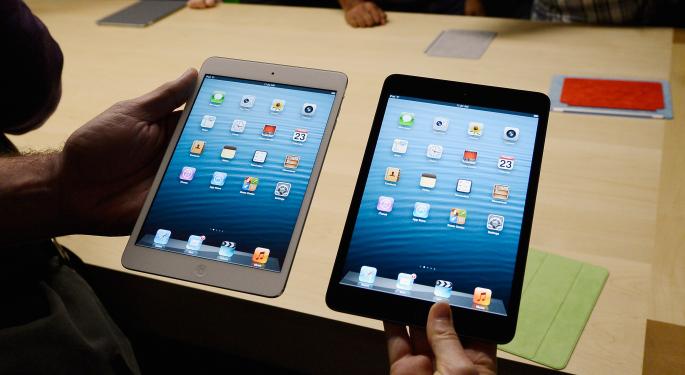 Amazon's (NASDAQ: AMZN) Kindle Fire HDX and Kindle Fire HDX 8.9" could have a Merry Christmas if Apple (NASDAQ: AAPL) is unable to release its next-generation iPad Mini.
According to Reuters, the iPad Mini 2 might be held back by Apple suppliers' inability to produce a high-resolution display.
The report claimed that suppliers have only just begun to build Retina Displays for the smaller-sized tablet. If true, Apple may be unable to manufacture enough iPad Mini units to ship in 2013.
Alternatively, the second-generation iPad Mini could ship in very limited quantities.
Competitive Windfall
Amazon, which will release its next-generation tablets later this month, could receive the greatest benefits of an iPad Mini delay.
By holding the product back until 2014, Amazon would be the only company besides Microsoft (NASDAQ: MSFT) to release a new slate of tablets in time for the holiday shopping season.
Google's (NASDAQ: GOOG) newest tablet, the second-generation Nexus 7, was released in July.
All of these tablets offer high-resolution HD displays, a feature not currently found within the first-generation iPad Mini.
Related: Will Apple Release A Cheaper Smartphone Than iPhone 5C?
All Hype And No Shortage
In 2012, the rumor mill repeatedly told consumers that they would not be able to locate the iPhone 5.
By the time the product was released, however, Apple seemed to have produced enough units to satisfy demand. While there were some initial sellouts (and a new record for smartphone sales), the iPhone 5 did not turn out to be an illusive item. Consumers could get one fairly easily. They may have had to wait a few weeks for the unit to ship, but that was nothing compared to the rumored shortages.
Thus, it is wholly possible that these reports are wrong -- or simply overblown. It is hard to fathom a scenario in which Apple won't ship a new iPad Mini this year.
This week Micro Center reduced the price of the 16GB iPad Mini by to $279.99 from its usual offering of $299.99. While it is not uncommon for Micro Center to sell electronics at a discount, the timing of this price cut is very revealing. The 16GB iPad Mini sells for $329.99 at other retailers.
That said, Apple has always been a company that does what it wants -- not what consumers or its competitors expect. If Apple thinks that it should hold back the new iPad Mini, then the tablet will not be released this year.
Otherwise, expect it to arrive by the end of October.
Disclosure: At the time of this writing, Louis Bedigian had no position in the equities mentioned in this report.
Louis Bedigian is the Senior Tech Analyst and Features Writer of Benzinga. You can reach him at louis(at)benzingapro(dot)com. Follow him @LouisBedigianBZ
Posted-In: Amazon Apple Google iPad Mini iPad Mini 2News Rumors Tech Best of Benzinga
View Comments and Join the Discussion!