Windows Phone Sales Near Double Digits In Key European Markets (MSFT)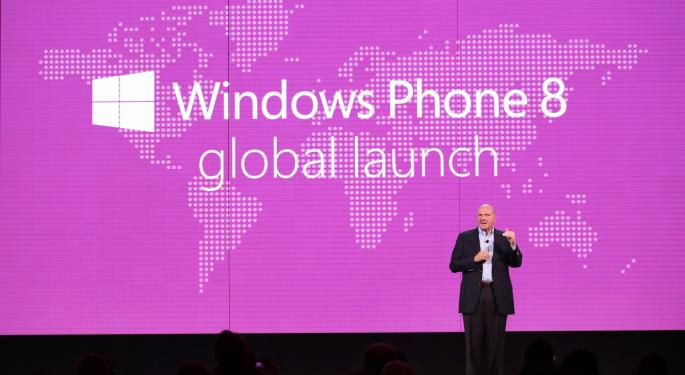 Microsoft's (NASDAQ: MSFT) Windows Phone sales share in Europe approached double digits in August, according to Kantar Worldpanel ComTech.
Although Google's (NASDAQ: GOOG) Android platform was still king of the hill at 70.1 percent market share, Windows Phone's 9.2 percent number across the five major European markets, including Great Britain, Germany, France, Italy and Spain was an attention grabber.
Windows Phone crept to within one percentage point of Apple (NASDAQ: AAPL) iOS in Germany. In addition, Windows Phone reached 10.8 percent sales share in France and 12 percent in Great Britain, marking the first time the company had achieved double-digit numbers in two major markets.
In a statement, Kantar Worldpanel ComTech strategic insight director, Dominic Sunnebo said, "After years of increasing market share, Android has now reached a point where significant growth in developed markets is becoming harder to find. Android's growth has been spearheaded by Samsung (OTC: SSNLF), but the manufacturer is now seeing its share of sales across the major European economies dip year on year as a sustained comeback from Sony (NYSE: SNE), Nokia (NYSE: NOK) and LG begins to broaden the competitive landscape."
Gigaom noted that Nokia's decision to push sales of lower end phones in Europe has been a key driver of Windows Phone's success. The Nokia Lumia 520 and 620 model smartphones, in particular, have been wildly popular with 16 to 24-year-olds and 35 to 49 year-olds, Kantar's Sunnebo said. Both phones provide a desirable combination of low price and functionality for those demographics.
Related: Microsoft Is Paying Attention To App Revenue Stream
Microsoft's growing popularity in Europe is not yet a worldwide phenomenon. Growth in the U.S. during the same period was just 0.4 percent, putting the Windows-based mobile OS at around three percent of smartphone sales domestically.
Windows Phone sales in China dropped 2.6 percent, from 4.7 percent to 2.1 percent. Android, on the other hand, jumped from 63.2 percent of sales to 72.4 percent, a leap of 9.2 percent.
Australia showed more promise for Microsoft where sales of Windows Phones grew 2.8 percent to 6.5 percent.
With Android's considerable lead worldwide, the developing battle seems to be between Windows and Apple. Attention on Apple's new iPhones and OS has taken away from Microsoft's move to number three ahead of BlackBerry (NASDAQ: BBRY).
This is especially true given the fact that the Windows mobile OS grew nearly 78 percent year-over-year in Q2 2013 according to the IDC.
At the time of this writing, Jim Probasco had no position in any mentioned securities.
View Comments and Join the Discussion!
Posted-In: Android Apple Australia BlackberryNews Global Tech Media Best of Benzinga