One-Week iOS 7 Adoption Rate Fastest Ever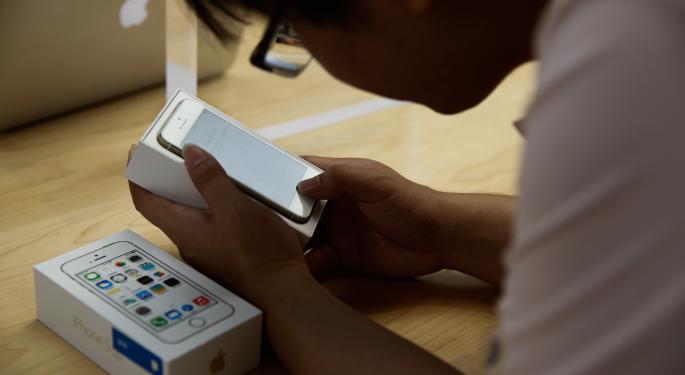 The speed with which the public adopts a new operating system measures many things, including confidence in the company backing the OS.
Apple (NASDAQ: AAPL) clearly sees the unprecedented rate at which iOS 7 was adopted by users in its first week as extremely good news.
According to app marketing company, Fiksu, 58.8 percent of Apple users were running iOS 7 Friday. IOS 6 was the OS of choice on 37 percent of devices with iOS 5 present on four percent.
A 58.8 percent adoption rate after one week is well ahead of iOS 6's one week adoption rate of 47 percent and more than double the 27 percent one week adoption rate of iOS 5.
Thanks, in part, to inadequate supplies, the primary beneficiary of iOS 7, the iPhone 5S, only makes up a little more than one percent of the iPhone market after a week. By contrast, the iPhone 5 holds a whopping 39 percent of market share. Market share for the 5S is expected to grow once supply chain problems are ironed out.
Related: Don't Believe The 'Apple Doesn't Innovate Like It Used To' Hype
Gotta Be Mobile said it expected iOS 7 adoption to reach 80 to 90 percent within a few months, unless some of the problems users have been experiencing create a plateau until issues are resolved.
Apple's numbers are particularly impressive when compared with those of Google's (NASDAQ: GOOG) Android OS. Extreme Tech reported that Android 4.2.x (Jelly Bean) had only 8.5 percent penetration on Android devices after nearly 11 months. Android 2.3.x (Gingerbread) by contrast had an installation base of almost 31 percent. And that OS is more than two years old.
There are a couple of caveats to consider, however. For one thing, wireless carriers have the option, with Android, to stay with older versions of the OS when coming out with new products. In addition, Android OS upgrades are often "non-events" with little improvement over past operating systems.
It's also important to note that Google makes its money on advertising. Apple, on the other hand, makes a lot of money every time a new device comes out. In other words, from a strategy standpoint, Apple has incentive to offer splashy OS upgrades and benefits greatly from high adoption rates – especially when they lead to the purchase of new iOS devices. Android, not so much.
Despite all this, it is hard to argue that Apple isn't seeing benefit from the adoption rate of iOS 7. It benefits in positive publicity, in the promotion of new features, and eventually, financially as users move to new devices that use the new operating system.
At the time of this writing, Jim Probasco had no position in any mentioned securities.
Posted-In: Android Apple Fiksu Gingerbread Google iOS 5Tech Media Best of Benzinga
View Comments and Join the Discussion!