Report: One in Five Yelp Reviews is Bogus (YELP)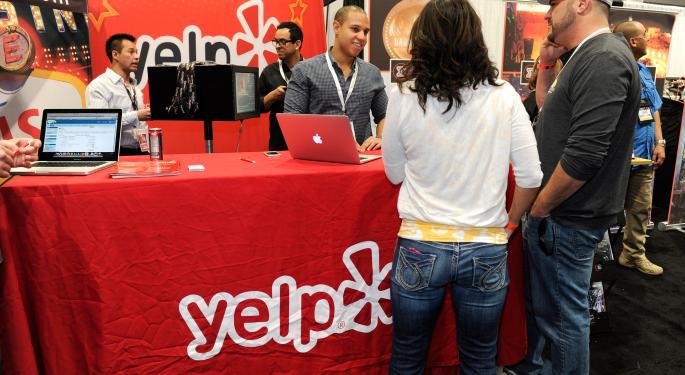 A recent report titled, Fake It Till You Make It: Reputation, Competition, and Yelp Review Fraud, by assistant Harvard Business School professor Michael Luca and Georgios Zervas, assistant professor of marketing at Boston University, determined that 20 percent of reviews submitted on Yelp (NYSE: YELP) are fabricated.
Because of that, New York's Attorney General, Eric T. Schneiderman, said Monday that his office had fined 19 businesses more than $350,000. The companies agreed to stop the practice of paying freelance writers overseas anywhere from $1 to $10 to make up and post favorable reviews of their establishments.
A representative for Yelp told The Wall Street Journal that although 20 to 25 percent of submitted reviews are "suspicious," they are filtered by Yelp and never seen by most visitors to the website.
Despite efforts like those of Schneiderman, the problem seems to be growing. Based on data collected by Luca and Zervas, the number of fake reviews on Yelp rose from five percent in 2006 to 20 percent in 2013.
Combing through 316,415 reviews of Boston restaurants the report discovered that 16 percent were filtered by Yelp and found to be fake. Although Yelp software seems to have done a good job separating good reviews from bogus ones, the incentive to "fake it" is still there. According to the report, a one-star rating hike on Yelp can mean up to a nine percent increase in revenue for the business.
In addition to reporting that 16 percent of restaurant reviews on Yelp were fake, the report by Luca and Zervas found that restaurants were more likely to commit fraud when they had a weak reputation or few reviews on the website.
Chain restaurants were less likely to fake reviews, primarily because they did not tend to receive as much benefit from Yelp as individual establishments. Finally, when a restaurant faced stronger competition it was more likely to post unfavorable reviews of competitors.
The posting of fraudulent reviews are an ongoing problem on a number of sites in addition to Yelp. Google (NASDAQ: GOOG), Citysearch, and Yahoo! (NASDAQ: YHOO), were all cited by The New York Times, as sites on which some reputation enhancement firms have been known to place fake reviews in the past.
Even when the review is not an outright fake, it might be tilted in favor of a product or company by the awarding of freebies or other gifts. A 2011 study by Cornell University and cited by The Wall Street Journal, targeted positive reviews on Amazon (NASDAQ: AMZN). The study concluded that 85 percent of the most active reviewers were part of "Amazon Vine" which includes the site's "most trusted" reviewers. These reviewers received free items from publishers, agents, and manufacturers, making them "unpaid agents" according to the study.
At the time of this writing, Jim Probasco had no position in any mentioned securities.
Posted-In: Amazon Amazon Vine Boston Boston UniversityNews Wall Street Journal Legal Media Best of Benzinga
View Comments and Join the Discussion!