Bill Gates Admits Well-Known Windows Trick Was a Mistake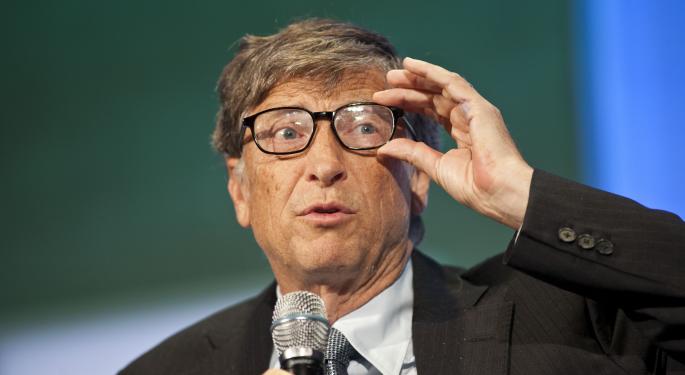 If you're a PC user, or were in the past, you know of the head-scratching key combination you know as Control-Alt-Delete.
In a recent comment, Microsoft (NASDAQ: MSFT) co-founder Bill Gates called it a mistake.
If you've moved on from a Windows-based system, maybe you forgot that control-alt-delete was the key combination you pressed to reach the task manager—the place you had to go to end those programs that would freeze in Windows. The earlier versions of Windows rebooted when the combination was pressed and in Windows 8, a menu screen appears allowing users to log out or still go to the task manager.
The problem, apparently, was that the key combination required two hands for most people and that was inconvenient. Gates said that it was designed to keep other apps from faking the login prompt and stealing a password. He also said that it would have worked with one button but the inventor of the IBM (NYSE: IBM) keyboard design was less than accommodative to that request.
But this is only one of the numerous admissions Microsoft has made recently about its missteps. Presumably a bigger deal than control-alt-delete, Gates also said that it missed its opportunity to gain real traction in the cell phone market a decade ago. He said, "We didn't miss cellphones, but the way that we went about it didn't allow us to get the leadership."
Related: Should Bill Gates Just Go Ahead and Hang It Up?
Retiring CEO Steve Ballmer said something similar. At Microsoft's analysts meeting earlier this month, Ballmer said, "Mobile devices. We have almost no share." He went on to say that there was nowhere to go but up and that's a major opportunity. Its recent acquisition of Nokia (NYSE: NOK)'s mobile business would help it find the right path in the market.
But what about the Microsoft Surface misstep? Microsoft disclosed that it had lost over $899 million on its tablet despite good reviews. Ballmer said, "We built a few more devices than we could sell."
But the news isn't all bad for Microsoft. It's cloud-based Office platform is seeing strong demand and although its smartphone market share is still in the single digits, it's growing. Some believe that Microsoft may bid for Blackberry (NASDAQ: BBRY). Not likely but the Nokia acquisition was a surprise as well.
Disclosure: At the time of this writing, Tim Parker had no position in the stocks mentioned.
Posted-In: Bill Gates Blackberry IBM Microsoft Nokia OfficeNews Tech Best of Benzinga
View Comments and Join the Discussion!