Should Bill Gates Just Go Ahead and Hang It Up?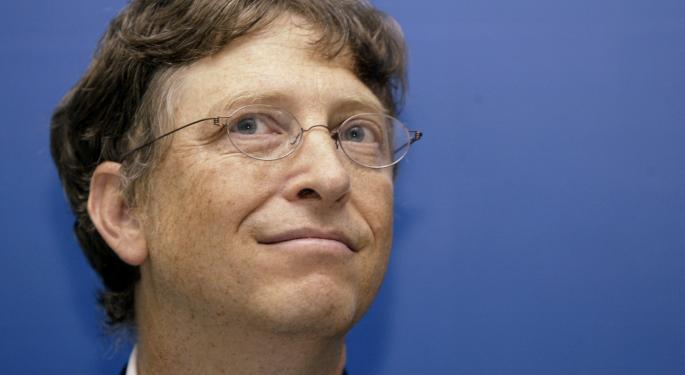 The departure of CEO Steve Ballmer from Microsoft (NASDAQ: MSFT) – and the fact there is no named successor yet - has given rise to one obvious question.
Is Bill Gates returning for a more active role with the company?
He says he is not, but many believe his denial lacks real conviction.
Others, including The New York Times, think not only that he should not become more active, but also that he should sever all ties, including his current role as chairman. Citing the purchase of Nokia's (NYSE: NOK) smartphone business, a delay in ousting Ballmer (nobody believes he voluntarily retired) and the fact there is no successor, the newspaper says simply that it's time for Gates and Microsoft to part ways.
As Gates himself acknowledged his real passion lies with the Bill and Melinda Gates Foundation. The recently announced retirement of foundation CEO, Jeff Raikes, leaves Gates and his wife with the task of finding a replacement, even more indication that returning to Microsoft would not be a high priority. At the very least, Gates' ability to multitask would be severely tested.
Related: Bill Gates Answers Questions About His Return to Microsoft
In addition, Gates owns less than five percent of Microsoft shares, hardly an incentive to dive back into day-to-day management of the company. On the other hand, as The New York Times pointed out, Gates is still the biggest single Microsoft shareholder and perhaps more importantly, many believe he might be the one person capable of righting the Microsoft ship.
Some have suggested that, given the fact there is no named successor to Ballmer, Gates might step in as interim CEO. The fact that no successor has been named, however, could also be an argument for precisely why Gates needs to cut all ties with Microsoft.
As chairman, Gates certainly bears some responsibility for the fact that Microsoft is filled with uncertainty. There is uncertainty about what, exactly, the company plans to do with its Nokia holdings, especially given outgoing CEO Steve Ballmer's comments at Microsoft's annual investor conference in which he said the company "must do the work to ensure that the PC stays the device of choice."
Moreover, there is the afore-mentioned uncertainty about just who the next Microsoft CEO will be. Much of this uncertainty could be reduced if Bill Gates would remove himself from the company once and for all.
At the time of this writing, Jim Probasco had no position in any mentioned securities.
View Comments and Join the Discussion!
Posted-In: Bill and Melinda Gates Foundation Bill Gates Jeff Raikes MicrosoftNews Rumors Management Tech Best of Benzinga