Bill Gates Answers Questions About His Return to Microsoft (MSFT)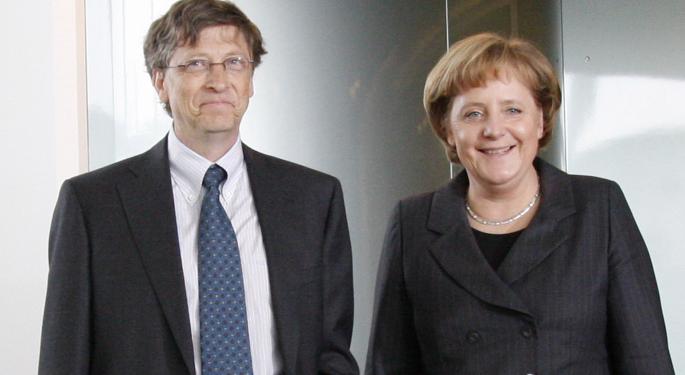 Tech watchers were surprised, but not very disappointed when current Microsoft (NASDAQ: MSFT) CEO Steve Ballmer announced his retirement.
Almost instantly, long-time Microsoft watchers began the campaign to bring founder Bill Gates back to the helm.
Speaking to Business Insider, Gates denied that he would consider returning to Microsoft. He said, "No, I ran Microsoft for a period of time. And, now I'm the chairman helping out on a part-time basis. And that's my connection. My full-time job is the foundation."
Related: The latest Microsoft CEO Search Scuttlebutt
Don't let his denial fool you, though. Gates may have said no but there's plenty of reason to believe that it's not a definitive no. Gates' involvement with Microsoft could take on a few forms.
Full-Fledged CEO
At this point that doesn't seem likely. He's made clear that being 'besties' with Warren Buffett and running the Gates Foundation are his passion. We made up the besties part but when one of the richest men in the world has signed on to give your foundation most of his money when he dies, it's probably best to get together for lunch pretty often.
Interim CEO
Intriguing, for sure. Could Gates take on the role while Microsoft takes its time to find the perfect person for the job? Again, probably won't happen.
Secret Consultant
If rumors are true, Bill Gates was behind Steve Ballmer's upcoming "retirement." This made people believe that Gates was likely more involved than originally thought. What may happen, according to the Microsoft rumor mill, is Gates becoming a more active part of the company.
But if it's not Gates, who is it? The most notable of the names is Stephen Elop, Nokia (NYSE: NOK) CEO. Microsoft recently entered into a deal to acquire the company's mobile phone business and with Elop stepping down from Nokia, he appears to be the front runner.
During Elop's reign, Nokia's stock dropped 80 percent while the company made no meaningful dent in the smartphone space but to be fair, Microsoft and Blackberry (NASDAQ: BBRY) didn't have success against the Apple (NASDAQ: AAPL) and Samsung (OTC: SSNLF) duopoly either.
Microsoft may have lost its way to some degree but if you're a CEO looking for your next career move, coming to a company with a strong brand, at least one flagship product in Microsoft Office, and a whole lot of cash doesn't seem like a bad move.
If you're reading this and you do get the CEO job, could you do us all a favor and get out of the mobile business? Somebody will dethrone Apple but not any time soon.
Disclosure: At the time of this writing, Tim Parker was long Apple.
Posted-In: Apple Bill Gates Blackberry Microsoft Nokia SamsungNews Tech Best of Benzinga
View Comments and Join the Discussion!