Apple's iPhone 5S Draws Record-Breaking Crowds, No iPhone 5C Buyers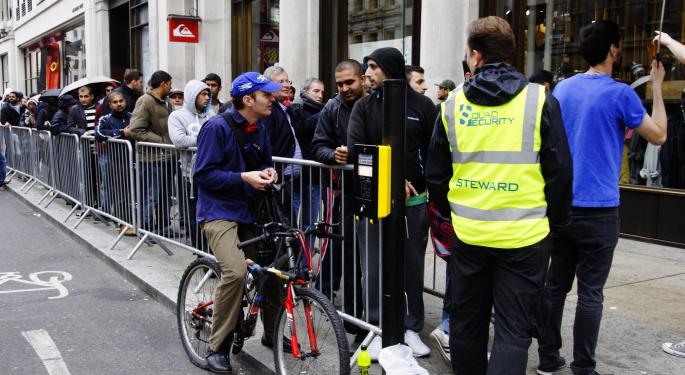 Apple (NASDAQ: AAPL) drew massive crowds to its store at the Somerset Collection in Troy, Michigan for the launch of its latest iPhone.
Stanley Hawkins, the first man in line, was so determined to get a gold iPhone 5S that he arrived at 1:00 p.m. Thursday.
"I am very tired," he said with a laugh.
The gold model is quickly proving to be the most popular model. By waiting in line for roughly 19 hours, Hawkins was able to obtain this illusive iPhone.
"I come every year," said Hawkins, who chose the 32GB iteration from AT&T (NYSE: T). "[It's] the gold standard. The Touch ID, the A7 chip. I just return faithfully every year."
Hawkins is from Florida but has been working in Windsor, Ontario for the past few months. He came across the boarder specifically to get an iPhone 5S.
"I remember the first time I [waited], it was just so wonderful -- the camaraderie of people waiting with anticipation -- like it's Christmas again," said Hawkins. "Adults can have Christmas all over again when Apple comes out with a new iPhone."
This isn't the longest wait Hawkins has endured, however. He has waited roughly the same amount of time for other iPhones in the past.
While iPhones tend to draw large crowds, Hawkins was all alone when he went to Verizon (NYSE: VZ) to purchase a third-generation iPad last year.
"I went there at 1:00 a.m.," he said. "I was the only one there until the last hour when one other guy showed up."
Apple didn't offer pre-orders for the iPhone 5S, but Hawkins wouldn't have accepted one anyway.
"I wouldn't trade the experience of being out here," he said.
An overhead view of the line for the iPhone 5S. This angle shows roughly half of the people that were waiting Friday morning.
Image Credit: Louis Bedigian, © 2013 Benzinga
Rained Out
Hawkins is among many customers who were forced to wait outside the mall for most of the night.
Psychild Robbie Noll, a self-proclaimed hippie musician and diehard Apple fan, arrived at 3:00 a.m. Friday morning. He came for two iPhone 5S units -- a 64GB unit for himself and a 32GB unit for his girlfriend.
"She of course wanted the gold," the artist told Benzinga. "I waited out in the rain -- totally soaked all the way down. We finally got in at 5:30."
By then it was too late.
"I just found out not too long ago that they don't have any gold," said Noll. "They don't have any silvers. All they have is the space gray."
Noll could attempt to exchange the gray model for a gold one if Apple receives more units within the next 14 days. In order to do the exchange, Noll will have to return to the Apple Store again (likely before it opens) and wait in another line.
"I'm really upset with Apple and I'm also really upset with the Somerset mall here because of the fact that they made us stand in the rain for like three hours and we were just soaked," said Noll. "It's just not good for the business here."
If Noll had known this was going to happen, he said that he would have ordered his iPhones online instead.
Related: Apple's 64-Bit iPhone 5S Processor Delivers An "Order Of Magnitude" Difference
Returning From Android
Artin Farahani left his iPhone behind after being lured away by Android manufacturers.
"I switched to Android just to try it out," said Farahani. "But I was not happy with it because even though it has a lot of features, they don't always work. I had problems with apps crashing, even those that come with Android itself, not third-party apps. So I was waiting for the next [iPhone] to come out."
Farahani was also intrigued by the new features of the iPhone 5S: the 64-bit processor and fingerprint sensor.
Jeff Meador, who was waiting near Farahani, said that he only came because Apple chose not to initiate a pre-order campaign. He pre-ordered other Apple devices and had never waited in line for a new product before.
"I hope it doesn't take long," Meador said of his waiting experience.
Despite the long lines and fear of a sell-out, Meador was not worried about getting one.
"I think they'll only sell out of the gold," said Meador, who wanted a silver 16GB AT&T model.
Unlike other Apple devotees Benzinga interviewed, Meador does not upgrade his iPhone every year (he purchased the iPhone 4S but not the iPhone 5). He does not currently plan to purchase the iPhone 6 when it is released next year.
Related: Is Apple's iPhone 5C The First iPhone For Kids?
No iPhone 5C Buyers Here
No one in line would admit to buying an iPhone 5C.
This could be because the device is readily available online. The device currently ships in one to three business days.
Comparatively, new orders for the gold iPhone 5S will not ship before October. The silver and space gray models ship in seven to 10 business days.
The iPhone 5C may also be hurt by the simple fact that it mirrors the specs of last year's iPhone 5. While the iPhone 5S offers some technological advancements, the iPhone 5C might be a tad too familiar for American consumers.
Disclosure: At the time of this writing, Louis Bedigian had no position in the equities mentioned in this report.
Louis Bedigian is the Senior Tech Analyst and Features Writer of Benzinga. You can reach him at 248-636-1322 or louis(at)benzingapro(dot)com. Follow him @LouisBedigianBZ
View Comments and Join the Discussion!
Posted-In: Apple AT&T iPhone 5 iPhone 5C iPhone 5SNews Success Stories Tech Best of Benzinga