Preorder Your New iPhone 5C This Friday (AAPL)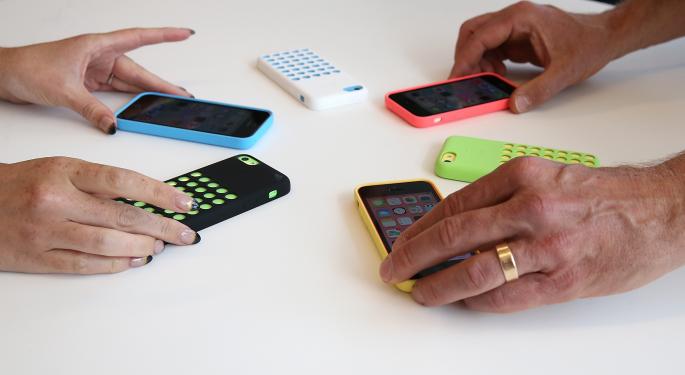 If you can't wait to get your hands on a new Apple (NASDAQ: AAPL) iPhone of the 5C variety, you are in luck.
Apple Insider reported that iPhone 5C preorders would go live Friday at midnight Pacific, 3 a.m. Eastern time through both Verizon (NYSE: VZ) and Sprint (NYSE: S).
The iPhone 5S, as previously reported, will not be subject to preordering but will be available (many suspect in limited quantities) on the release date of September 20. Consumers can also place an online order for the 5S on September 20.
Related: Prepare for Long Lines - No Pre-order for Apple iPhone 5S
The timing for 5C preorders through the Online Apple Store has not yet been announced but if past practice holds true, Apple will begin processing orders at the same time as the major carriers, according to Apple Insider.
Pricing for the 5C, which was announced at Tuesday's media unveiling, starts at $99 for a two-year contract on a 16GB model. The 32GB iPhone 5C will cost $199 under the same two-year obligation.
The advantage of preordering is that anyone with a verified preorder will have their iPhone shipped or available on September 20. Without the availability of preordering, the 5S versions are expected to ship several days later.
Information on preordering the 5C (or ordering the 5S) is available on Apple's website.
Related: The Top Four Apple Disappointments From Tuesday's Event
While the 5S offers a number of innovations, including a fingerprint sensor security system, the 5C is similar to last year's iPhone 5. It has a 4-inch Retina Display, 8-megapixel rear camera, and dual-core A6 processor, according to CNET.
One major difference is the fact that the 5C has a plastic (not metal) body. This is similar to the old iPhone 3G, CNET said. The 5C is available in a variety of color options.
For those who want a 5C in their hands on release day, Apple retail stores will open at 8 a.m. local time on September 20. CNET reported that lines have already formed in front of at least one Apple store.
While both Verizon and Sprint have already specified when they will begin accepting preorders for the 5C, AT&T (NYSE: T) only confirmed preorders will begin September 13, but did not specify a time.
T-Mobile(NYSE: TMUS) confirmed that it will offer both the 5S and 5C, but the company website had yet to list specific ordering information online. T-Mobile did say in a press release that the 5S would be available September 20 with the 5C available for preorder on September 13.
Consumers should be aware that under T-Mobile's new no-contract strategy, neither the 5S nor 5C would be subsidized as they are with other carriers.
According to CNET, none of the other smaller carriers that typically offer Apple phones has announced release information yet.
Best Buy (NYSE: BBY) is the only major retailer that has specified details about the new phones. It will offer 5S, 5C, and iPhone 4s at all locations beginning September 20. CNET also reported that the retailer will offer the iPhone 5C and 8GB 4s for preorder in-store only starting September 13.
At the time of this writing, Jim Probasco had no position in any mentioned securities.
Posted-In: 8-megapixel rear camera Apple AT&TNews Retail Sales Events Tech Media Best of Benzinga
View Comments and Join the Discussion!