Get Ready To Picture Instagram Monetized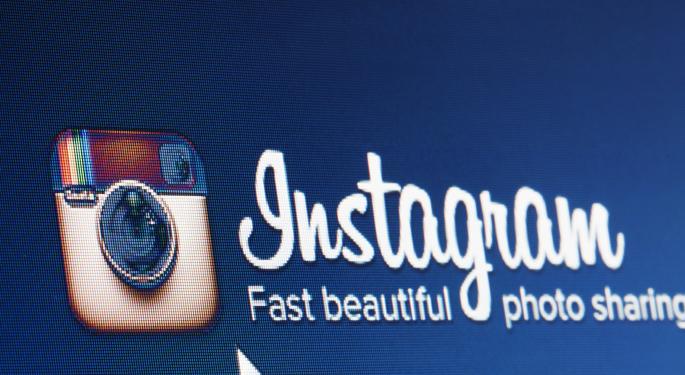 There are no ads on Instagram.
The app doesn't cost anything. In other words, it does not create revenue for its owner, Facebook (NASDAQ: FB).
If Instagram director of business operations, Emily White, is to be believed, all that will change within the next year, according to The Wall Street Journal.
Although White is charged with monetizing Instagram, there is apparently no hurry to do so. "We want to make money in the long term," she told the newspaper, "but we don't have any short-term pressure." The goal is to produce income without turning off users – specifically teens and young adults who make up the bulk of Instagram's user base.
Brian Wieser, an analyst at Pivotal Research Group said, "Theoretically, [Instagram] could be making hundreds of millions of dollars today, but they would need a big sales force and they would risk polluting the environment."
Instagram is an app with a clean look, simple function, and inspiring mission – to "capture and share the world's moments." Instagram's loyal users would view anything that interferes with or clutters up that process negatively.
Attracting users has been the primary focus of Instagram since its inception. That part of the business plan has been very successful. Instagram now says it has more than 150 million monthly active users, up significantly from the 22 million it had when Facebook acquired the app in 2012.
For comparison, Twitter said it had "well over" 200 million active users in March. At the rate Instagram is growing, it could equal or even surpass Twitter in the near future. With numbers like that, it's easy to understand why Instagram wants to introduce ads in a way that does not disrupt growth.
Related: More Proof That Facebook Wants To Look More Like Twitter
Under White's direction, Instagram cataloged every major brand currently holding an Instagram account. Recently she met with representatives of Ford (NYSE: F), Williams-Sonoma (NYSE: WSM), and Coca-Cola (NYSE: KO), according to The Wall Street Journal.
Communication and reassurance – both with potential advertisers and users – seems to be the watchword for Instagram. While acknowledging third-party services that advertisers can use to access user content, White reassured users that Instagram would not go down that road.
At the same time, she pointed to a long-term goal of creating partnerships with major brands, like one with Levi Strauss & Co. involving a cross-country train ride and the uploading of photos and videos to Instagram. White indicated that such partnerships would help major corporations see the value of Instagram as a marketing tool.
Using Instagram's trademark filtering process to offer users unique and artistic photos and videos of advertiser brands seems the most likely way to introduce ads, according to Tech Radar.
Whether Instagram members will accept the ads – no matter how artistic the content – remains to be seen.
At the time of this writing, Jim Probasco had no position in any mentioned securities.
Posted-In: Brian Wieser Coca-cola Emily WhiteNews Wall Street Journal Events Tech Media Best of Benzinga
View Comments and Join the Discussion!