EXCLUSIVE: Arctic Cat CEO Claude Jordan Breaks Down Weather and Sales (ACAT)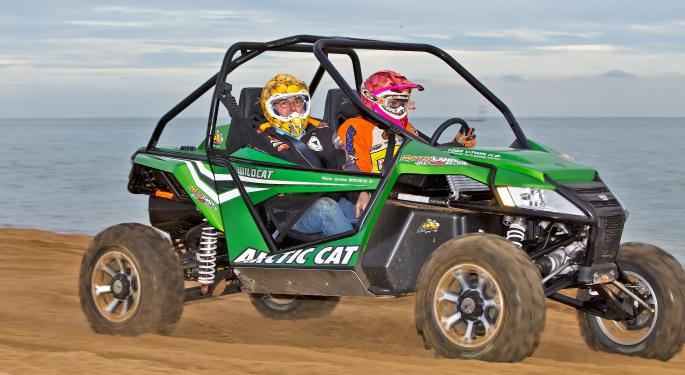 This is the second part of this series. The first part can be found here.
Throughout the past few months a slew of companies from Crocs (NASDAQ: CROX) to Coca Cola (NYSE: KO) have blamed bad earnings on the weather.
In an exclusive interview with Benzinga, Arctic Cat (NASDAQ: ACAT) CEO Claude Jordan explained the role weather plays on the company's sales. Arctic Cat faces both sides of the spectrum with their snowmobile and ATV businesses.
Winter
Jordan began by explaining how the company reacts to an extended winter. "We retail snowmobiles anywhere between September and March. This year when we had an extended winter we got the opportunity not to necessarily sell more snowmobiles, but additional parts.
"It also positions us relatively well for the following year because inventory will be depleted." Snowmobiles go through parts because they are incredibly high performance machines, something an extended winter aids.
For the fiscal year 2013, snowmobiles accounted for 39.3 percent of sales while parts and accessories made up 16.1 percent.
Related: Exclusive: Arctic Cat CEO Claude Jordan: New Dividend And Facilities For Possible Acquisition
Summer
"On the other side of the coin you have the ATV business. When you have a lot of snow on the ground, you are typically not selling a lot of ATVs and side by sides," Jordan started.
"There is no doubt that we felt the late winter and delayed spring and summer on our ATVs and side by sides in terms of retail."
Jordan went on to break down the effect by month. "April and May were pretty good for us, but we did feel it in June."
Although ATVs and Side by Sides made up 44.6 percent of last year's sales, Jordan expects the segment to be a huge growth catalyst and dominate the business. Stay tuned for Jordan's comments on how the side by side division could revolutionize the company.
Shares of Arctic Cat rose 2.57 percent Monday to close at $55.50. Year to date, the company is up 66.21 percent.
Follow Luke Jacobi on Twitter @LukeJacobi or send an email to luke(at)benzingapro(dot)com.
Posted-In: ATVs Claude Jordan Side by Sides SnowmobilesNews Retail Sales Trading Ideas Interview
View Comments and Join the Discussion!