'Madden NFL 25' Off To a Slow Start, But Investors Shouldn't Be Alarmed (EA)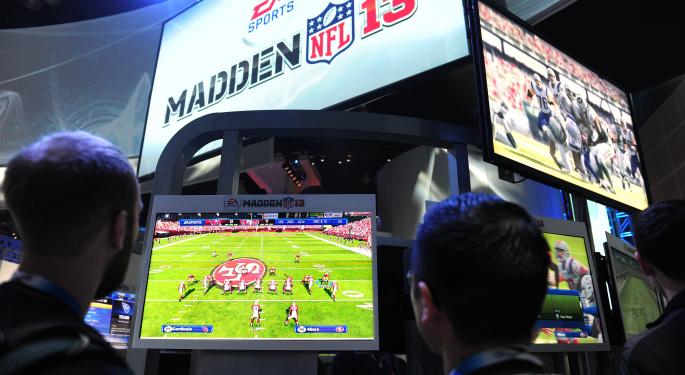 Are you ready for some football?
The first game of the season between the Baltimore Ravens and Denver Broncos looked like it would be a nail-biter, but then the second half arrived.
Regardless, football is in business once again which brings us to another franchise that is off to a questionable start. That franchise is the Madden NFL franchise.
It's been around for 25 years and for much of it, Electronic Arts (NASDAQ: EA) has cashed in. The Madden franchise has generated at least $4 billion in revenue and was second only to Activision Blizzard's (NASDAQ: ATVI) Call of Duty: Black Ops II in total downloads.
The newest version is Madden NFL 25. Thursday, Electronic Arts announced that in its first seven days (August 27- September 2), the game sold more than one million copies to customers in North America.
Last year's version, Madden NFL 13, sold 1.65 million units in the first week and went on to sell five million copies.  But some investors are a little nervous. The stock was down one percent Thursday and an additional 1.7 percent after hours. This morning, the stock opened slightly higher.
Although one million copies represents a 40 percent year over year drop, there are some reasonable explanations. First, Madden NFL 25 is seen as an incremental upgrade. Last year's version debuted a new animation technology called the Infinity Engine which, according to AllThingsD, made tackles look like they hurt more when players weigh more and legs and arms get tangled upon contact instead of pass through the animations. No such coolness in this year's version.
Related: Sony Confirms That PlayStation 4 Has Kinect-Style Features
Second, gamers are currently in a holding pattern as they await the November launch of the Xbox One and PS4. The game will have versions for those consoles so why buy now?
On a less optimistic note, the iOS version of the game is receiving less than stellar reviews. With only 3 out of 5 stars on the Apple's (NASDAQ: AAPL) app store, it's not hard to find reviews like this:
"Truthfully, you have to pay for everything you do in the game. This is a travesty in the highest regard. An utterly worthless piece of trash and no one should give EA a dime for this garbage."
What seems to be rubbing users the wrong way is the fact that the app is free but a lot of in-app purchases are needed to make it useful. Not exactly what EA was hoping for but to be fair, no company hits a home run (or scores a touchdown) every time.
Despite the softer opening week, nothing appears to be broken in the Madden franchise. The true test will come in November when the new consoles arrive. If sales remain soft, that might be cause for alarm.
Disclosure: At the time of this writing, Tim Parker was long Apple.
View Comments and Join the Discussion!
Posted-In: Activision Blizzard Apple electronic arts Madden nflNews Tech Best of Benzinga