Could Google Glass Be The Death Of Facebook? (FB, GOOG)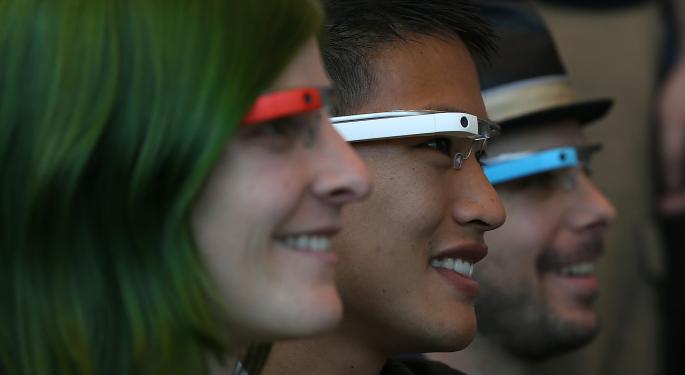 It's all about the process of sharing photos. At least for now.
To take a picture with Google (NASDAQ: GOOG) Glass, simply touch the frame or say, "Take a picture." At that moment, the picture is automatically stored and (if you wish) shared on Google+ according to Business Insider.
The process with Facebook (NASDAQ: FB) and Instagram is more complicated. First, you must pull your mobile phone out of your pocket, open the camera app, point, and then shoot. Then you have to go through a (sometimes lengthy) process to share the picture on Facebook.
Not only is the Google process faster and easier, but it makes being on Google+ (as opposed to Facebook) more desirable. Of course, there's still that whole "looking like a nerd in goggles" thing to think about. That alone – barring some severe fashion updates on the part of Google – might be enough to keep any number of people from jumping the Facebook ship anytime soon.
The ease of use with Glass, when taking pictures, however, is not a small thing. Wearing Glass at sporting events, concerts and other types of activities where snapshots or movies are the norm could become mainstream very quickly.
Not everyone is a fan. And it's not all about the nerdy look. The Columbus Dispatch called Glass a "… barrier between users and the real world around them."
Related: Google Delays Glass Until 2014
While acknowledging that the device does some cool things, the newspaper said it does boil down to wearing a computer on your head all day long. And while Glass, in its current incarnation, makes it easy to view a text message, email or recently taken photo, finding documents that are days old requires a lot of scrolling – not something most people would likely want to do.
Issues aside, ReadWrite reported that news site Zite thinks Glass will be the way people receive and digest news in the future. Zite CEO, Mark Johnson, apparently went through a metamorphosis to reach that conclusion.
Johnson told ReadWrite, "When I got this pair of Glass I was really honored to be in the program but I thought, honestly, is that it is just a gimmick. As I started using them I realized that a revolution is coming, a revolution that is going to be impossible for people to ignore. Not just for we that develop applications, but for consumers as well."
However it evolves and whatever form it takes, many believe the Glass revolution will begin with photographs and video. And unless Facebook has a suitable response, at least some people believe it could find itself left behind.
At the time of this writing, Jim Probasco had no position in any mentioned securities.
Posted-In: Facebook Glass Google Google+News Events Tech Media Best of Benzinga
View Comments and Join the Discussion!