The Pros And Cons Of The Unconfirmed Lenovo Buyout Of BlackBerry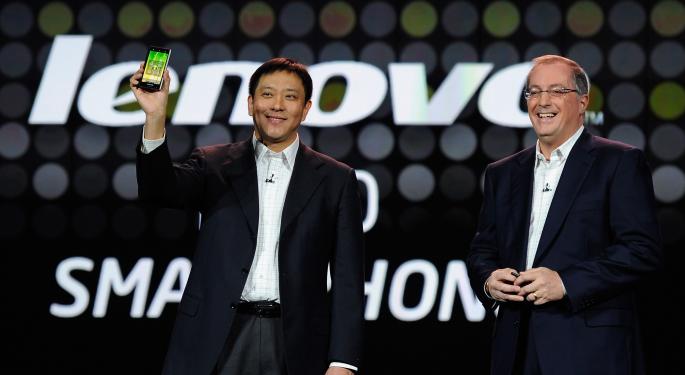 Lenovo (OTC: LNVGY) and BlackBerry (NASDAQ: BBRY) might be on the verge of the biggest merger the smartphone industry has ever seen.
Lenovo has been toying with a possible union for several months. Company executives have hinted at a potential buyout on multiple occasions. Little has come from those rumors, but after BlackBerry 10 failed to deliver high sales in the global market, the company began to search for new opportunities.
There were rumors that BlackBerry was searching for a Google-sized (NASDAQ: GOOG) company to come to the rescue. Lenovo may not be as big as BlackBerry, but it could be the white knight that the firm has been seeking.
After all, it was Lenovo that purchased the ThinkPad brand from IBM (NYSE: IBM). In less than one decade, Lenovo grew and became the world's largest manufacturer of personal computers. Hewlett-Packard (NASDAQ: HPQ), the former leader in PC manufacturing, was bumped to second place last quarter.
Related: Lenovo Laughs Off Nokia Buyout Rumors
With BlackBerry under its control, Lenovo could hit the global smartphone market with a very well-known brand. The BlackBerry software may get merged with Android (perhaps Lenovo would make it open source?). Alternatively, Lenovo may choose to sell smartphones that run both operating systems.
That said, it is unlikely that Lenovo will buy BlackBerry with the intent of developing future several handsets that only run BB10. Consumers have not shown great interest in leaving behind iOS or Android. Lenovo is bound to take advantage of this fact and merge Android into BlackBerry's world. If Apple (NASDAQ: AAPL) didn't have exclusive ownership if iOS, Lenovo would probably take advantage of that OS as well.
If the merger occurs, Lenovo will reportedly pay $17 a share -- that's a significant premium considering that the stock is only trading in the $10 range. It is currently up more than four percent.
By gaining a new owner and partner, BlackBerry would be free to focus on developing innovative products. It would no longer have to worry about angry investors or the ongoing onslaught of Samsung (OTC: SSNLF) handsets. That would be Lenovo's problem. And if Lenovo approaches smartphone development in the way that it tackled notebook PCs, it may allow BlackBerry to only stress about making great devices. It would be Lenovo's job to promote and sell them.
Related: BlackBerry's U.S. Market Share Drops to 1% as Apple Soars
If successful, Lenovo could become one of the biggest smartphone manufacturers in the world.
On the downside, a BlackBerry buyout means that existing BlackBerry fans may be left in the dust. Lenovo cannot possibly support BB10 unless it becomes more popular. The company is unlikely to invest in a marketing campaign that is capable of turning the tide. If BlackBerry cannot do it on its own, why should Lenovo waste more money trying to accomplish the same goal?
Lenovo is also unlikely to spend millions of dollars developing a successor to BB10. It is all but inevitable that Android will be utilized in some capacity.
Thus, the core fans may feel betrayed if BlackBerry is acquired by Lenovo.
Canadians may also be a little frustrated with the buyout. As one of the largest companies in Canada, the brand has become quite popular with its citizens. Lenovo may agree to keep BlackBerry's headquarters in Waterloo, Ontario as part of the buyout. Even if it does, Lenovo is a Chinese company. Slowly but surely, BlackBerry would be at risk for losing its Canadian identity.
Then there are the risks that Lenovo faces. By investing in BlackBerry, Lenovo will gain instant access to the firm's patent portfolio and its supply chain. But if the buyout does not produce high smartphone sales within Lenovo's timetable (whatever that may be), the company could be stuck with a multi-billion-dollar paperweight.
Disclosure: At the time of this writing, Louis Bedigian had no position in the equities mentioned in this report.
Louis Bedigian is the Senior Tech Analyst and Features Writer of Benzinga. You can reach him at 248-636-1322 or louis(at)benzingapro(dot)com. Follow him @LouisBedigianBZ
Posted-In: Android Apple Blackberry GoogleM&A News Rumors Tech Best of Benzinga
View Comments and Join the Discussion!