Want Mind Blowing Facts About Tesla? Here's 15 You May Not Have Known Already (TSLA)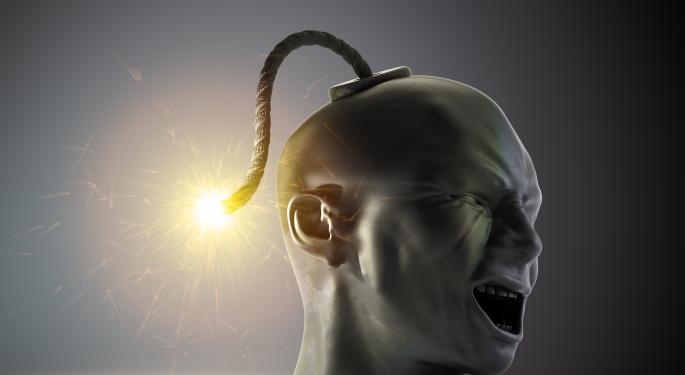 Despite a Dow that was down 170 points Tuesday, Tesla (NASDAQ: TSLA) managed to finish the day up 1.7 percent to close at 167.01—another 52 week high.
And, despite a market that has shed 3.25 percent in the past month, Tesla has moved 24 percent higher. The amazing part about this story is that those are the least of the mind-blowing facts about the company that is up 372 percent in 2013.
Ready for more? Let's start with market cap.
Tesla is now a $20 billion company. Compare that to Ford (NYSE: F) that is valued at $63 billion, General Motors (NYSE: GM), valued at $46 million, and Honda (NYSE: HMC) with a $67 billion market cap. By market cap, Tesla is nearly twice as large as Suzuki Motor Corporation (OTC: SZKMY) and larger than Mazda and Fiat.
What makes the market cap numbers so incredible is that Tesla will deliver only 21,000 cars in 2013 compared to Ford's projection of more than two million. Although Tesla has roughly one percent of Ford's sales, it's valued at nearly a third of Ford's value. By the way, each car it sells accounts for about $1 million of its market cap.
Related: Big Car Makers Take Sales Back Seat To Tesla In California
Investors know that comparing measurements of price can be misleading so how about P/E? Tesla, with a valuation of 260 times forward earnings is higher than Ford's P/E of 11 and GM's P/E of 10.
CEO Elon Musk has seen his net worth triple to $8 billion but there's a lot more money waiting for him. Tesla's Board of Directors issued Musk options to purchase 5.3 million shares of stock at a price of $31.17. Before he can exercise those options, the company's market cap has to reach $43.2 billion (he's nearly halfway there) and he must meet 10 operational milestones. Five of the ten milestones include:
Successful completion of the Gen III Engineering Prototype;
Gross margin of 30 percent or more for four consecutive quarters;
Aggregate vehicle production of 100,000, then 200,000 and finally 300,000 vehicles.
(Go to page 23 of this document to read the others.)
It is facts like these that have fueled the raging debate between the bulls and bears. Tesla bulls believe that Tesla has brought electric vehicles into the mainstream and the high valuation reflects the bet that Tesla will continue to bring innovation to the automobile space comparable to what Apple (NASDAQ: AAPL) did to electronics.
The bears point to basic stock market logic. What goes up at the rate of Tesla is likely to fall just as fast. Stocks eventually revert to fair value and going long the stock is asking for disaster. Again, look at Apple. But when that mean reversion takes place is anybody's guess.
Whichever side you fall on, it's undeniable that with Tesla's 2013 accomplishments, it has certainly earned a fair amount of its upside. How much is what has investors worried. If you're long, buying a couple of cheap put options might be wise.
Disclosure: At the time of this writing, Tim Parker was long Apple.
Posted-In: Apple Elon Musk Fiat Ford General Motors hondaRetail Sales Tech Best of Benzinga
View Comments and Join the Discussion!