Microsoft Won't Stop Waging Battle In Tablet Wars (MSFT)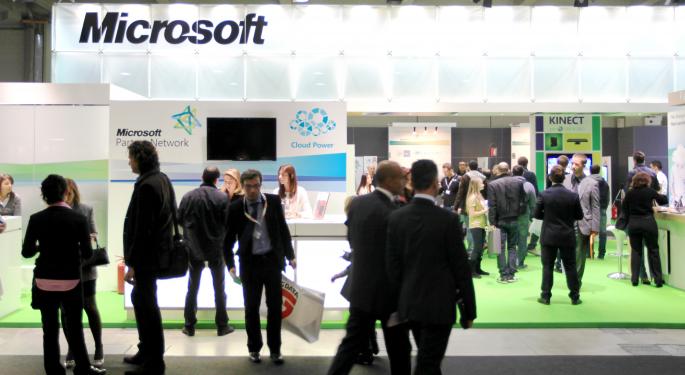 Microsoft (NASDAQ: MSFT) is on a mission to convince consumers that Windows 8 Tablets are better than the Apple (NASDAQ: AAPL) iPad.
One way Microsoft is trying to do this is through a side-by-side comparison on Microsoft's website.
There consumers can compare four Windows 8 or Windows RT (a variant of Windows 8) tablets to a 32GB fourth generation iPad. In general, Microsoft claims Windows 8 tablets are less expensive, often have a larger display size, work with most printers, include Microsoft Office, allow multiple accounts, and the coup de grâce, allow multitasking.
Some, including MacRumors, have quibbled with Microsoft's claims, including the claim that the display size of the ASUS Vivo Tab Smart is larger than that of the iPad. Spoiler alert: The truth depends on how you measure and define "display size."
According to Business Insider, the veracity of Microsoft's claims is moot. PC sales are in decline. Microsoft took a $900 million write-down on its Surface RT tablets. Meanwhile, Apple's iPad revenue, during that same period, was $25 billion.
Related: Windows 8 Won't Save the PC Like Everybody Had Hoped
Apple's ability to maintain a lead over Microsoft in the tablet space might be more effective than Apple CEO, Tim Cook's, disparaging comments about the Microsoft Surface tablet when it came out in 2012, as reported by CNET. At the time, Cook compared the Surface to a "flying car," saying it was a "fairly compromised and confusing product."
Microsoft, however, is not about to give up. In July, MacRumors reported that Microsoft had launched its fourth anti-iPad ad, in which the company, once again, highlighted the iPad's inability to run multiple apps at the same time. In this case, one of two baseball scouts (the one using the Windows 8 tablet) successfully signs a new player thanks to his tablet's ability to multitask.
More recently, Microsoft's marketing attempts have focused on the use of Windows 8 tablets in education. Tab Times reported that the company's latest commercial demonstrates how the Lenovo Yoga, with attached keyboard, multi window features, and Microsoft Office compatibility is demonstrably superior to the iPad.
While this ad mostly shows off the Yoga, it's clear that the rest of the class (all with Apple iPads no less) are frustrated with their tablets' features to the point where one Apple iPad using student asks the student with the Lenovo Yoga to share her notes.
As with most advertising campaigns, Microsoft's efforts don't prove anything, except that the war is far from over.
At the time of this writing, Jim Probasco had no position in any mentioned securities.
View Comments and Join the Discussion!
Posted-In: Apple Inc. ASUS Vivo Tab Smart iPad Lenovo YogaNews Retail Sales Events Media Best of Benzinga