China Mobile And Apple Might Be Close To A Deal...Again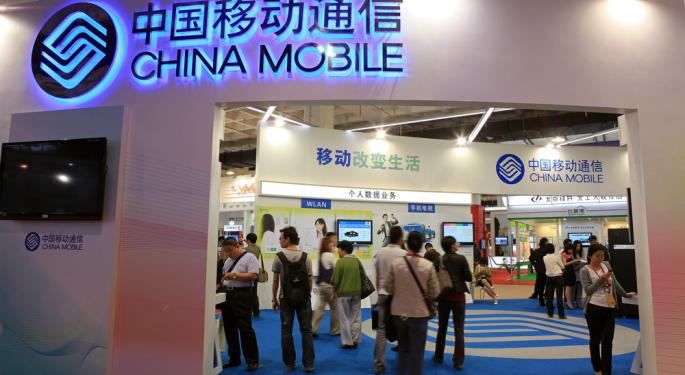 Still wondering why Apple (NASDAQ: AAPL) stock has shown signs of life of late?
Sure, Carl Icahn had something to do with it, along with the growing chatter from the rumor mills that the iPhone 5S and "cheap" iPhone 5C are about to be unleashed but according to a Forbes article, investors think a deal with China Mobile (NYSE: CHL) might be imminent—again, and that could be huge for Apple.
First, Apple and China Mobile have been dancing around a real relationship since 2011. While other companies have bowed to the supremacy of the iPhone, China Mobile has no reason to succumb to a deal that leaves Apple hauling in mega-cash on insane margins.
Why? Because China accounts for more smartphone sales than the United States, India, Japan and United Kingdom combined, according to CNNMoney.
Related: New Research Reveals Why Apple Is Entering the Smartphone Trade-In Market
The iPhone is the seventh most popular phone in China and just like in other countries where Apple reigns supreme, nobody cares about the seventh place finisher. With other markets nearly saturated, Apple can no longer afford to try and strong-arm China Mobile. Here's why.
The Premium Phone is Out
The days of a super-expensive phone are coming to an end, particularly as customers grow tired of the two year contract. Saturated markets have companies looking for new opportunities and those include places like Africa, India, Japan, and China—countries which, as a whole, are looking for cheaper options because carriers don't subsidize the purchase price of the handset.
That's true in China and that's why a low-cost phone is a more popular choice. If Apple wants China, it will have to take the margin hit instead of pushing it onto the carriers.
The China Market is Too Huge to Pass Up
For a company the size of Apple, there aren't many single deals large enough to get investors excited enough to bid up the stock but a partnership with China Mobile would be huge—up to $50 billion huge! One estimate found that a deal with China Mobile could mean more than 10 million iPhone activations in 2014 and 25 million in 2015.
If you want to get "in the weeds" with the estimate, read the Forbes article but in the end, if Apple can deal with lower margins, the amount of new business could equal $50 billion.
Disclosure: At the time of this writing, Tim Parker was long Apple.
Posted-In: Africa Apple china mobile Forbes IndiaNews Management Tech Best of Benzinga
View Comments and Join the Discussion!