American Airlines In Bankruptcy Court Thursday For Final Approval Of Exit Plan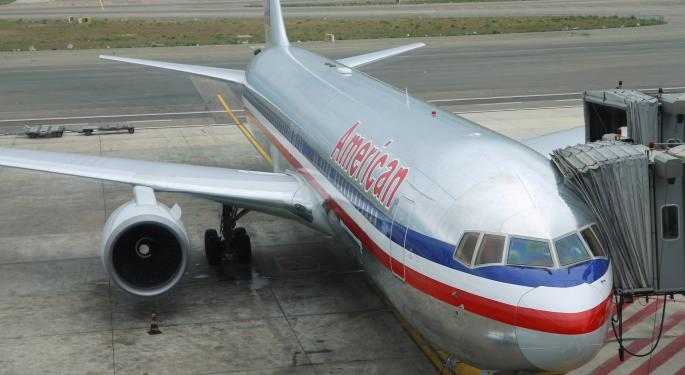 Thursday was supposed to be the day that AMR Corp (OTC: AAMRQ), the parent for American Airlines, went before a judge for final approval of its plan to exit bankruptcy by merging with US Airways (NYSE: LCC).
That will not be the case now as the U.S. Department of Justice is suing to block the merger.
According to Bloomberg, what happens now is unclear. Bankruptcy Judge Sean Lane will either postpone the hearing or approve the plan contingent on the two companies gaining DOJ approval for the merger, but the marriage of the two companies, at least in its current form, isn't likely to happen.
The merger plans not only had the approval of the boards of directors of both companies, but AMR's creditors and shareholders liked it even more. Under the merger agreement, unsecured creditors would receive full recovery and stockholders would receive stock in the new company. Under most other bankruptcy options, the payout to these creditors and shareholders would represent a near total loss.
Related: American Airlines And US Airways To Fight Justice Department Action
There's also the time factor. The longer the bankruptcy case drags on, the harder it is to sustain normal operation. According to Jay Sakalo, a bankruptcy attorney at Bilzin Sumberg Baena Price & Axelrod LLP in Miami, "A few more months probably doesn't have a critical effect on the company. A few more months, though, that are followed by no viable alternative if the merger isn't approved -- that could have a very significant impact on the business."
If the merger deal is abandoned, the bankruptcy process essentially starts from scratch. Attorney Jack Butler said, "We sort out what makes the most sense and what maximizes value for creditors and what's good for the airline going forward, and that is a process that will go into 2014."
The DOJ is blocking the deal over what it believes would be less flights and higher prices. According to Bloomberg, there would be no direct competition to the combined American and US Airways for nonstop service on 17 domestic routes and with US Airways now having 55 percent of takeoff and landing slots at Washington's Reagan Airport, the merger would increase that number to 69 percent.
AMR and US Airways plan to fight the decision in court saying that the combined entity would be customer friendly.
Disclosure: At the time of this writing, Tim Parker had no position in the mentioned equities.
Posted-In: AMR Bloomberg DOJ Jack Butler Jay Sakalo Reagan AirportNews Legal Best of Benzinga
View Comments and Join the Discussion!