Facebook COO Sheryl Sandberg Sells $91.1 Million In Stock On August 7 (FB)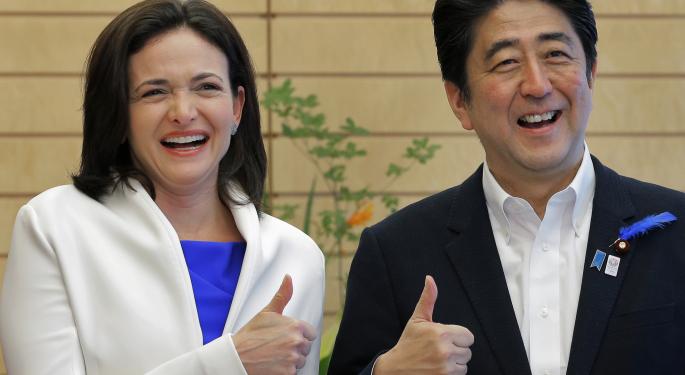 Facebook (NASDAQ: FB) COO Sheryl Sandberg announced that she sold $91.1 million in stock last Wednesday, August 7.
The move comes as Facebook shares returned to the IPO price of $38 for the first time since just after the company's infamous offering.
Insider Sale
In a Form 4 filed with the Securities and Exchange Commission, Sandberg disclosed that she sold nearly 2.4 million shares of Facebook for gross proceeds of just over $91.1 million. The sale represented about 8 percent of her total holdings at the time of the sale.
Sandberg still owns a whopping 27.06 million shares of Facebook valued at over $1 billion as of the close Tuesday. However, it is important to note that the sales were part of a scheduled 10b5-1 trading plan, a plan set up by key insiders at a company to sell a pre-set amount of stock over a given time period to diversify holdings.
Specifically, SEC rule 10b5-1 allows insiders of publicly traded corporations to set up a trading plan for selling stocks they own. Rule 10b5-1 allows major holders to sell a predetermined number of shares at a predetermined time.
Facebook said, "We have adopted an 'Insider Trading Policy' that governs the trading of our securities by our directors, officers, employees and consultants. Pursuant to the terms of that policy, all of our executive officers, as well as other members of our senior management team, are required to conduct any purchase or sale transactions in our securities through a trading plan established pursuant to Rule 10b5-1 ("Rule 10b5-1 Plans") under the Securities Exchange Act of 1934, as amended. Under the company's current policies, Rule 10b5-1 Plans can be entered into only during an open trading window and are subject to a "cooling-off" period before any sales or purchases may occur pursuant to such a Plan."
Click here for all of Sandberg's SEC filings.
Accelerating Sales
It is important to note that Sandberg has been selling shares for most of this year at a fairly regular rate, selling shares every three to four weeks. However, the number of shares that she has been selling has been increasing as the stock price has risen, potentially hinting that Sandberg is looking to exit the stock at these elevated levels.
For example, in January, Sandberg sold just over 500 thousand shares of Facebook for gross proceeds of just over $14 million. The January sale was a mere 21 percent of the stock sold last week and 15.5 percent of the value of stock that Sandberg sold.
Shares Lower
Facebook shares traded lower in the pre-market on the news. Shares traded down .46 percent to $36.85 per share.
I have no position nor have transacted in shares of Facebook.
View Comments and Join the Discussion!
Posted-In: Facebook Insider Sales Securities and Exchange CommissionNews Management Insider Trades Hot Pre-Market Outlook Best of Benzinga