J.C. Penney Board Responds Quickly To Bill Ackman (JCP)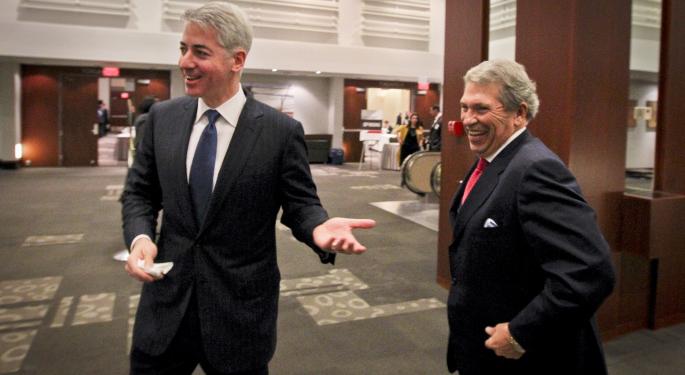 The war of words was rekindled Thursday between activist investor, William Ackman, and the J.C. Penney (NYSE: JCP) board of directors, with the board returning fire after Ackman made public a letter in which he urged the board to act quickly to replace interim CEO Myron "Mike" Ullman.
In a press release, issued late Thursday, Thomas Engibous, Chairman of the board of directors of J. C. Penney Company, said,
"The Board of Directors strongly disagrees with Mr. Ackman and is extremely disappointed that his letter was released to the media at the same time that it was sent to the Board. Mr. Ackman has been integrally involved in the Board's activities since he joined two years ago. This includes leading a campaign to appoint the Company's previous CEO, under whose leadership performance deteriorated precipitously. His latest actions are disruptive and counterproductive at an important stage in the Company's recovery."
The Wall Street Journal reported that the company also solicited support for Ullman from other executives, including Howard Schultz, Starbucks (NASDAQ: SBUX) CEO who said, "Mike is working tirelessly to save this company, and it is despicable of Ackman to leak a letter asking for his removal."
Nonetheless, when Ackman first released his letter, urging J.C. Penney to act quickly to replace Ullman, saying a new CEO needed to be found within 30 to 45 days, the company's stock rose nearly seven percent on the news.
Related: Strong Reaction After Bill Ackman Letter On JC Penney
Ackman, whose Pershing Square Capital Management LP, owns almost 18 percent of J.C. Penney's stock, lobbied to unseat Ullman and replace him with Apple (NASDAQ: AAPL) executive, Ron Johnson in 2011.
After a disastrous stint as CEO, Ullman replaced Johnson earlier this year. Engibous and the J.C. Penney board made it clear in their letter that they were sticking by Ullman while the search for a new CEO continues, saying, "Mike is the right person to rebuild J.C. Penney by stabilizing its operations, restoring confidence among our vendors, and getting customers back in our stores. He has the overwhelming support of the Board of Directors, and we are confident the company is in good hands."
Meanwhile, Ackman has problems of his own. Reuters reported Thursday that Soros Fund Management LLC was withdrawing its entire investment from Pershing. The money, less than $250 million, will be returned by sometime in early 2014 according to a person close to the matter.
While Pershing Square is up 3.8 percent year-to-date, The Wall Street Journal noted that other stock hedge funds tracked by research firm HFR are up an average of 7.7 percent. In addition, the S&P 500 has shown a gain of almost 20 percent.
At the time of this writing, Jim Probasco had no position in any mentioned securities.
Posted-In: Apple Inc. HFR Howard SchultzNews Management Events Media Press Releases Best of Benzinga
View Comments and Join the Discussion!