Google Engages In A Delicate Balancing Act with Motorola (GOOG)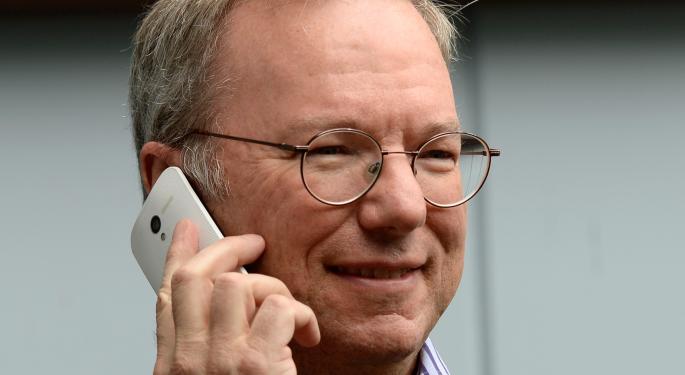 At the same time Google (NASDAQ: GOOG) tried to leverage the $12.5 billion investment it made last year to purchase Motorola Mobility, the company also has to be careful that its partners don't feel Motorola is becoming the "favored child."
According to The Wall Street Journal, Google is in the process of deciding whether Motorola could play a role in products like Google Glass. At this point, Dennis Woodside, Motorola CEO, said the company has been consulting with Google to solve manufacturing issues with Glass and could eventually handle full production.
Meanwhile, in what could be an attempt to show a lack of favoritism, Motorola's new Moto X, produced with guidance from Google, doesn't even feature the latest version of Google's Android operating system. Motorola executives, however, said Moto X owners would eventually receive the new software as an over-the-air upgrade.
The "Android" problem revolves around the fact Android software became the leading smartphone OS because it was open to multiple device makers. As Google's presence in hardware increases, the company realizes there is a chance those manufacturers could get nervous.
Related: Google Chromecast Making TV Executives Nervous
On the other hand, as The Wall Street Journal pointed out, owning Motorola provides Google with an OS hedge since a large number of Android devices are now made by Samsung, which is working on its own operating system.
That hedge comes at a cost. One year after Google bought Motorola due to the fact that its then current handset manufacturers had become involved in patent disputes with Apple Inc. (NASDAQ: AAPL), Motorola's market share has declined and its losses have grown.
Tensions between Motorola and Google apparently reached the point developers of the Moto X worried that Google's Chrome browser would not come preinstalled on the device. Whatever problems there were got resolved because Chrome is indeed preinstalled on the Moto X.
Motorola's Woodside dismissed talk of friction between the companies. The Wall Street Journal reported that Woodside said Motorola's inability to get the most up to date OS on the Moto X was more the result of "bad timing," pointing out that the two companies are independent.
Perhaps all's well that ends well. With the unveiling of the Moto X, including a whole palate of customizable colors, a 4.7 inch screen, "all-day" battery, and instant start camera, Motorola hopes to turn its fortunes around after falling to the role of bit player to both Apple and Samsung, according to Bloomberg.
As Motorola's owner, Google has to want the same thing.
In early trading, Friday, Motorola shares were up $0.33 at $57.81. Google was up slightly at $904.40.
At the time of this writing, Jim Probasco had no position in any mentioned securities.
Posted-In: Android Apple Inc. ChromeNews Wall Street Journal Events Tech Media Best of Benzinga
View Comments and Join the Discussion!