Apple Wants To Restore The Grandeur Of Retail Stores (AAPL)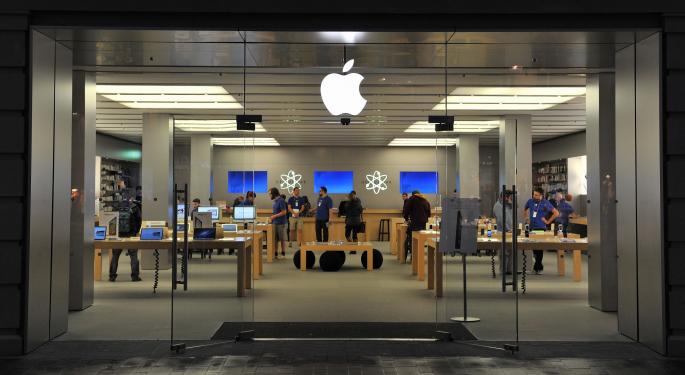 Remember when taking a trip to an Apple (NASDAQ: AAPL) store was an experience in itself -- even if you didn't buy anything?
Remember how cool it was to walk into the store and see all of those beautiful Mac computers set up with iPads as signage instead of some tired 1990s-looking laser printed "SALE" sign?
Shopping or browsing in an Apple store was such an experience that at some locations customers had to wait in line just to enter the store. And the Apple store in Grand Central Station? It was like going to a fine museum.
According to a Wall Street Journal article, that experience is starting to feel like the company's current product line: old. Retail sales have fallen to $4,542 per square foot—down 4.5 percent year over year and sales during the fiscal third quarter fell to $4 billion—the lowest since fiscal Q4 of 2011.
The scapegoat for the decline is John Browett, Apple's retail boss for only six months. He put the focus on cost-cutting, sales tactics and the bottom line. Ron Johnson, who fared much better as Apple's retail chief than as a J.C. Penney (NYSE: JCP) CEO, made the focus customer satisfaction and the "wow" factor of the stores. Apple invested lavishly in the stores, and it paid off—at the time.
Apple is still on the hunt for a head of its retail stores. The search that has taken more than 10 months has produced some viable candidates but Apple wasn't excited about them and in other cases, the candidates weren't excited about Apple.
Related: Apple Sued by Own Employees
In what sounds very un-Apple, one recruiter told WSJ that some candidates aren't enthusiastic about the job. Reason being that Apple's upper management hasn't been clear about their future vision for retail and making any changes inside the culture of the company may be near impossible.
In the interim, CEO Tim Cook has lead the retail division. He wants to revitalize sales that have topped off and aggressively expand the stores' presence in countries like China.
To gain some perspective, sales may have slipped from $5,971 per square foot in 2012 to $4,542 today. Those numbers would make just about any company ecstatic, as by comparison, Lululemon Athletica (NASDAQ: LULU) has sales of $2,464 per square foot, while others have far less than that.
According to the Journal, Apple is returning to its roots by putting the emphasis back on the customer experience. If there's one thing investors and analysts agree on when it comes to the most talked about company and stock on the planet, it's that the time has come for some new products.
When that happens, assuming they impress consumers, many of these waning metrics will likely reverse—hopefully.
Disclosure: At the time of this writing, Tim Parker was long Apple
Posted-In: Apple Grand Central Station J.C. Penney John BrowettNews Retail Sales Tech Media Best of Benzinga
View Comments and Join the Discussion!