Wednesday Was A Day That Bill Ackman Will Want to Forget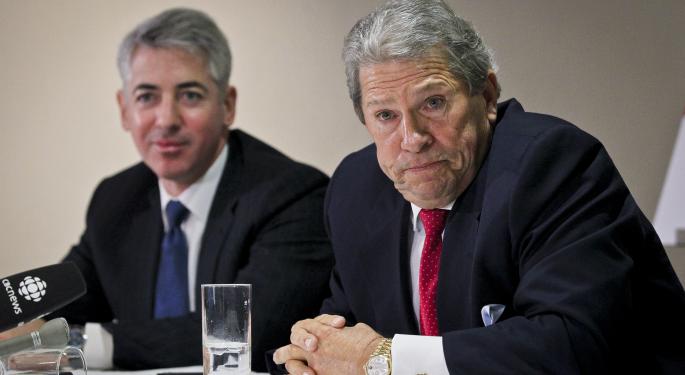 Even billionaires have bad days at the office.
Ackman started the day with CNBC announcing that he had taken a 9.8 percent stake in Air Products and Chemicals (NYSE: APD).
Despite announcing a new long position that sent the stock up more than three percent on the day, it's probably safe to say that Bill Ackman won't be counting Wednesday as one of his best days as a hedge fund manager.
Even though the stock ended the day nearly three percent higher on the news, Ackman admitted that he made a mistake by dropping hints to Wall Street. Air Products figured it out and enacted a poison pill clause that kept him from taking a larger stake in the company.
Related: Bill Ackman Takes $2.2 Billion Stake in Air Products
But that was the highlight of his day. Around the mid-day, news that George Soros had amassed a significant long position in Herbalife (NYSE: HLF) spread quickly. This sent the stock soaring. By the end of the day, it was up nine percent making Ackman's losses totaling nearly 16 percent in the past five trading sessions.
But there are a lot of questions about this story. The Financial Times reported that Soros has had a three percent stake in Herbalife for three years. It went on to say that he has better things to do than get in the middle of petty hedge fund wars.
"Soros, of course, spends most of his time helping to educate central Europeans or galvanise Africans, rather than waving his proverbial at other big-name New York hedgies."
This evening, the Ackman camp accused the hedge fund community, including Soros of working together to make him cover the position.
Finally, if his day wasn't bad enough, his J.C. Penney (NYSE: JCP) position lost more than 10 percent at the end of the day when the New York Post tweeted this:
Source: CIT Cuts Credit for Penney Shipments On Concerns About Business $JCP via @jamescovert1

— NY Post Business (@nypostbiz) July 31, 2013
There's not a lot of information on this story since either side has commented other than to say, "no comment," but if the Post's sources are correct, CIT Group (NYSE: CIT) met with J.C. Penney and informed the company that it would no longer finance deliveries to J.C. Penney stores.

Thursday is a new day and for Ackman, the good news is that it's hard to imagine that it could be any worse.

Disclosure: At the time of this writing, Tim Parker had no position in any of the equities mentioned.
View Comments and Join the Discussion!
Posted-In: Air Products and Chemicals Bill Ackman CIT Group Herbalife J.C. PenneyM&A News Legal Best of Benzinga