Cubist Announces Acquisitions of Trius Therapeutics and Optimer Pharmaceuticals (CBST, OPTR, TSRX)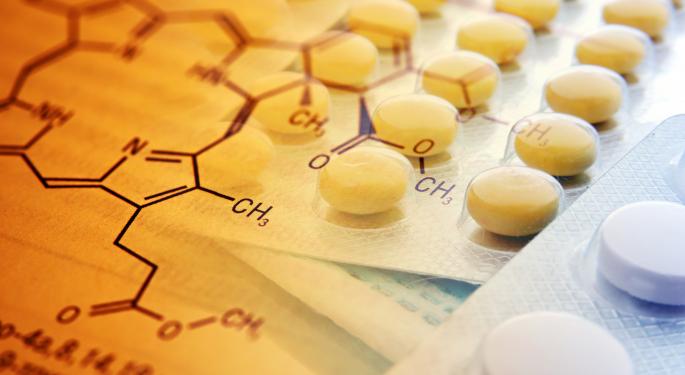 After the close Tuesday, Cubist Pharmaceuticals (NASDAQ: CBST) announced its intention to acquire two separate companies, Trius Therapeutics (NASDAQ: TSRX) and Optimer Pharmaceuticals (NASDAQ: OPTR) for a combined total potential value of $1.619 billion if certain milestones are met.
Trius Purchase
Cubist announced that it would buy Trius for $13.50 per share, a premium of 15.29 percent above the closing price of $11.71 of Trius' shares. Also, Trius shareholders will receive a contingent value right (CVR) worth an additional $2 per share in cash that is not publicly trade-able should certain milestones of sales be met. If the CVR vests with full value, the deal would be worth its maximum value of $818 million.
The CVR will entitle each Trius stockholder to receive $1.00 per share if net sales of tedizolid in the U.S., Canada and Europe are greater than or equal to $125 million in 2016 and up to an additional $1.00 per share, paid on a pro rata basis, for 2016 net sales between $125 million and $135 million.
"Trius is a tremendous strategic fit with Cubist that supports our Building Blocks of Growth long-range goals while extending our global leadership in the acute care environment," said Cubist Chief Executive Officer Michael Bonney. "Tedizolid is an exciting late-stage antibiotic candidate that we believe has the potential to be an important new tool in the infectious disease community's battle against resistant infections caused by MRSA."
"We have a high regard for the entire Trius team and the excellent work they have done with the tedizolid program and their promising discovery programs. We believe our extensive clinical, regulatory, and commercial experience in acute care will allow us to complement this team's work and maximize the potential for tedizolid while driving substantial near and long-term benefits for hospitals, patients and shareholders alike."
"As a recognized leader in acute care, we believe Cubist is best-positioned to maximize tedizolid's potential to patients in the U.S. and other world regions," said Jeffrey Stein, Ph.D., President and CEO of Trius. "This transaction culminates years of intense work by the Trius team to achieve this outcome, and our shareholders are being rewarded for their involvement and support of the company."
Optimer Acquisition
Cubist also announced the acquisition of Optimer after the bell in a deal with a total potential value of $801 million, $10.75 per share in cash up front with an additional CVR worth $5 in cash per share. The CVR payment will be $3.00 if cumulative net sales of Optimer's drug DIFICID exceed $250 million, $4.00 if cumulative net sales exceed $275 million and $5.00 if cumulative net sales exceed $300 million. It is expected that the CVR will be listed on the Nasdaq Stock Market.
Michael Bonney, Chief Executive Officer of Cubist, said, "Optimer is a natural fit for Cubist given our co-promotion of DIFICID and focus on the acute care and hospital environments. The transaction meets our strict criteria for acquisitions and is well aligned with our strategic goals – the Building Blocks of Growth. There is a significant and rising need for DIFICID as CDAD infections continue to be a growing clinical and economic burden globally."
"Given Cubist's outstanding hospital-based commercial infrastructure and our first-hand experience co-promoting DIFICID in the U.S., we are uniquely positioned to maximize DIFICID's full potential for the benefits of patients, hospitals and our shareholders. We expect a very smooth transition, and we look forward to its contributions to creating shareholder value for many years to come."
"I am pleased that we were able to successfully conclude our strategic review process with a transaction with Cubist. After a long and extensive process considering a range of alternatives with a number of parties, the Board of Optimer has determined that this transaction provides the best opportunity to optimize value for our stockholders by delivering an immediate upfront cash payment and a meaningful opportunity to participate in the future upside of DIFICID through the CVR," said Dr. Hank McKinnell, Chairman and CEO of Optimer.
"Cubist, a premier acute care and hospital commercialization organization, is well equipped to bring the benefits of DIFICID to patients. Extending our existing co-promote agreement with Cubist allows the continuation of Cubist's commitment to DIFICID and, in doing so, facilitates sustained DIFICID growth toward the achievement of the CVR."
Optimer and Trius were both halted ahead of the news. Cubist shares rose 2.63 percent after-hours to $58.50 per share, a new 52-week high.
Posted-In: Hank McKinnell Jeffrey Stein Michael BonneyM&A News Press Releases Best of Benzinga
View Comments and Join the Discussion!