Apple Sued By Own Employees (AAPL)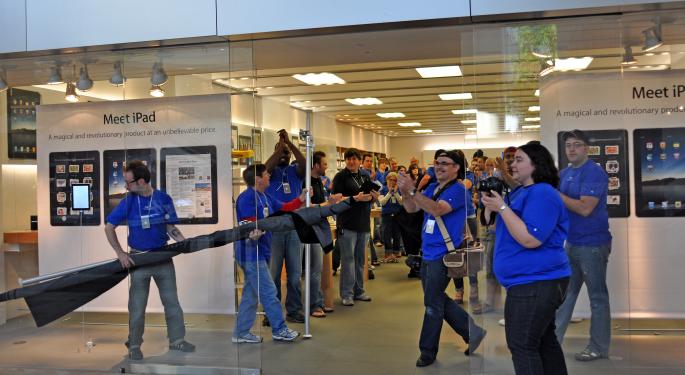 Apple (NASDAQ: AAPL) keeps its lawyers busy with its constant stream of patent lawsuits, but a new case was filed late last week that is just now making news.
This time it's not a rival company, patent troll or one of the many frivolous suits that the company is hit with. This time, it's from Apple's own employees.
The case is Amanda Frlekin and Dean Pelle v. Apple, Inc. The plaintiffs are former Apple retail employees who claim that they lost around $1,400 in wages per year because of Apple's security policies.
The complaint alleges, "Apple has engaged and continues to engage in illegal and improper wage practices that have deprived Apple hourly employees throughout the United States of millions of dollars in wages and overtime compensation."
When an Apple employee completes a shift or clocks out for a meal break, the employee's bags and pockets are checked. According to the complaint, the employee has to wait an average of 10-15 minutes before the security check is performed.
At issue is the fact that employees aren't paid for the time they wait for the check. This can add up to 50 minutes to 1.5 hours per week for a total of around $1,400 per year.
Related: Three Apple Stories You Might Have Missed This Weekend
The plaintiffs are seeking to make this a class action suit that represents all current and former Apple retail employees over the past three years.
A security check of this type isn't necessarily out of line, AppleInsider points out. Electronics retailers and other companies dealing in high dollar merchandise often have security checks of employees, but companies like GameStop (NYSE: GME) allow employees to stay on the clock until the check is complete.
This isn't the first time that Apple has come under fire for its treatment of its retail employees. A story last year by The New York Times found that employees were paid between $9 and $15 per hour—in-line with other retail employees but lower than employees in other, less profitable stores.
The class action suit was filed in the United States District Court for the Northern District of California. The plaintiffs are seeking a jury trial.
Disclosure: At the time of this writing, Tim Parker was long Apple.
View Comments and Join the Discussion!
Posted-In: Amanda Frlekin Apple Apple Retail AppleInsider class actionNews Legal Tech Best of Benzinga