Yahoo Media Head Mickie Rosen Leaving Company (YHOO)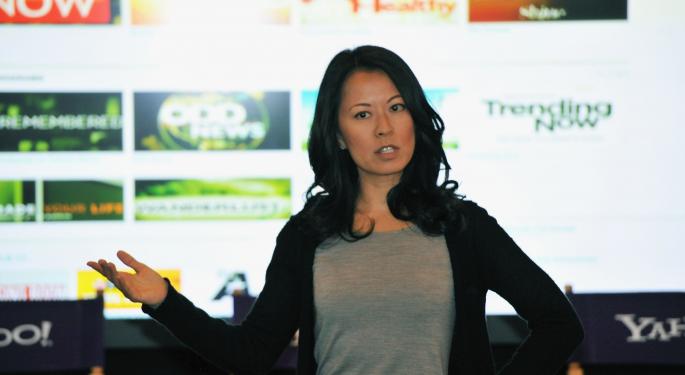 Another day, another departure at Yahoo! (NASDAQ: YHOO).
AllThingsD reported Yahoo media head Mickie Rosen has resigned. Her last day will be Friday, July 26, according to a memo from CEO Marissa Mayer. As AllThingsD noted, Rosen spearheaded a host of major video and other content initiatives while managing to largely hold on to the company's media audience. According to the story, content offerings have been its one area of continued strength, despite Mayer's inattention to this aspect of the business.
And, as AllThingsD discusses, Rosen was brought on board by former Americas head Ross Levinsohn, who lost the CEO job to Mayer and left soon after. This may tie into Rosen's sudden resignation.
According to AllThingsD, Rosen doesn't appear to have another job lined up and Yahoo doesn't seem to have a replacement as of yet. The fact a senior employee is jumping ship so suddenly may indicate a rocky relationship with Mayer, particularly given the aforementioned circumstances, although that is purely speculative at this point.
In any event, a rather successful leader is leaving a critical branch of the business, which will certainly raise doubts about the future direction of the organization.
Loeb Leaving Yahoo's Board
The announcement of Rosen's departure is the second major blow in as many days for the Internet giant.
Dan Loeb, CEO of hedge fund Third Point, LLC, announced his resignation from the board on Monday. As Benzinga reported, the activist shareholder agreed to sell 40 million shares at $29.11 per share, accounting for two-thirds of his company's stake in the firm. The two other directors appointed by Third Point – Harry J. Wilson and Michael J. Wolf – will join Loeb, with all three resignations effective July 31.
As The Wall Street Journal notes, Loeb played an active role in ousting former Yahoo CEO Scott Thompson, reorganizing its board and hiring current CEO Marissa Mayer. His departure may signal a lack of confidence in the company he helped reshape, as evidenced by its 4.3 percent decline on Monday.
Related: Yahoo! Reports Repurchase of 40M Shares Held by Loeb's Third Point, Price Was $29.11/Share
More Departures to Come?
According to the story, lucrative stock options have recently vested for several high-ranking executives who are not part of Mayer's loyal circle. As such, AllThingsD notes its sources believe more high-profile departures are in store for the Silicon Valley firm.
Market Reaction
Yahoo's stock had been on a gradual incline since Mayer took the helm and peaked at just under $30 on July 17 and 18.
However, Rosen's departure has resulted in a 1.5 percent decline as of the late morning hours on Tuesday. The one-two punch of high-profile exits has left it down over 5.5 percent this week. It looks like Loeb may have cashed out at the perfect time as the stock reverses course and Rosen's departure leaves another major problem on Yahoo's crowded plate.
Posted-In: Dan Loeb Mickie Rosen Third Point CapitalNews Rumors Best of Benzinga
View Comments and Join the Discussion!